Fall Play Goes Virtual
How a pandemic forced DPAC to adapt and put on what is possibly their most creative show yet.
Led by teacher advisor Bethany Yuninger, Dallastown Performing Arts Club (DPAC) has been around at Dallastown for about 12 years. But they've never had a production with as much love and labor as this year's fall play.
According to Yuninger, DPAC is a very accepting and fun loving club here at Dallastown where everyone can feel like they fit in. It provides students with the opportunity to hone in their creativity and speak their minds.
"I adore having the opportunity to provide kids with a place where they can be themselves, forge lasting friendships, and own every part of the creative process involved in theater," Yuninger said.
Every year DPAC puts on a fall play, a winter dinner theater production, and a talent show. Since COVID happened they had to get a little creative with how they would still be able to have a fall play without an in-person audience in the auditorium.
Pre COVID, senior Hannah Lancaster proposed doing Pride and Prejudice by Jane Austin to the club and the members voted on it. However when the pandemic hit, the hope of doing a fall play dwindled because of safety.
Luckily, as Yuninger says, "some companies started working hard to make sure schools could still provide opportunities for performance to their students." This opened the door for the students to get their senior show once again.
They had virtual auditions using Flipgrid in September and rehearsals started shortly after. The show will be streamed November 13 at 7 p.m., November 14 at 2 p.m. and 7 p.m., and November 15 at 2 p.m..
They also had to have most of their rehearsals on Zoom, which was a feat in itself as some kids were in-person and some were online. It was also super hard to build a sense of community when not everyone's in the room together.
But some things about zoom rehearsals were nice.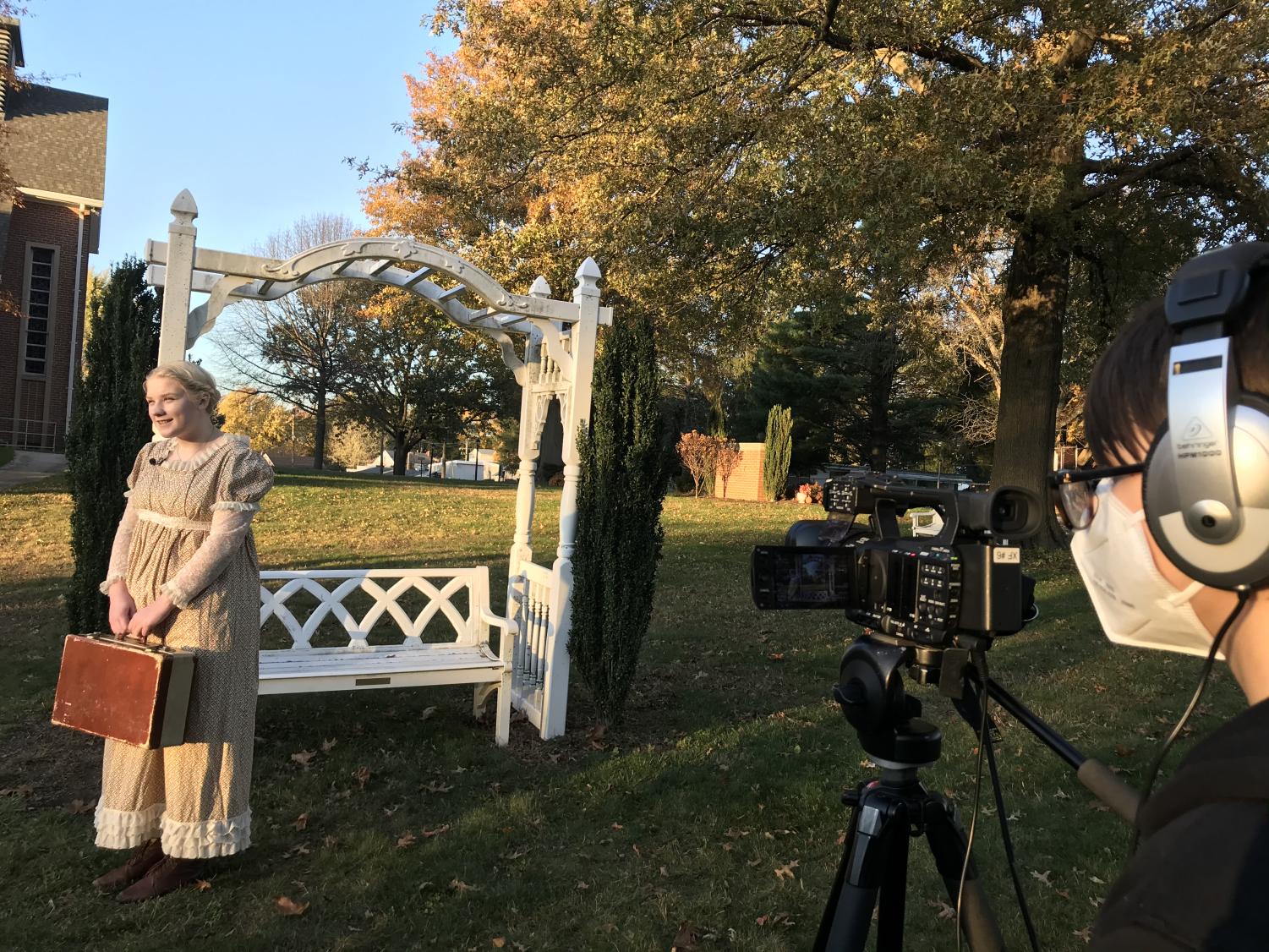 "The best thing is probably being able to see everyone in their home environment," Student Director Finn Asobayire said, "Sometimes we would end certain rehearsals by showing off pets and whatnot."
Students filmed all of the scenes in one take even if there was a line stumble or a fallen prop. That way it's as close to a live production as you can get in these times.
DPAC also participates in the International Thespian Society State Conference which will be happening virtually in January. Any student, whether they're in DPAC or not, is able to attend, just ask Mrs. Yuninger for more details.
The best part about the virtual conference is "you can just do it all in your jammies this year," Yuninger said.
DPAC has the honor of presenting their production as a main stage event, which means they get to perform the entire show for the conference attendees. Students get to participate in workshops, masterclasses and other events as well.
As for the future of DPAC productions this year beyond Pride and Prejudice? 
They're not sure yet. They're thinking of possibly partnering with a local restaurant for dinner theater, doing a radio show or even performing some student written pieces.
"The idea of filming certain shows will not be going away," Asobayire says.
Purchase tickets to Pride and Prejudice this weekend, November 13-15 at this link https://dahsdpac.booktix.com
Any student looking to join Dallastown Performing Arts Club or even just wanting to see what they're doing  can follow them on Facebook and Youtube under Dallastown Performing Arts Club, as well as their Twitter @dt_dpac or check out their website https://dpacarts2.wixsite.com/home