Pizza During A Pandemic
How one Dallastown family business is surviving rules and regulations during a challenging year.
Mamma's Pizza has been a local favorite since 1987.
Dallastown freshman, Noah Conigliaro and his brother, 2020 graduate Matteo Conigliaro, are the sons of owners Joe and Rosa. They have grown up in the restaurant. It was each of their first jobs.
They've seen the restaurant through a lot of changes, but this past year has brought some unique challenges. 
Like many other businesses, 2020-21 pandemic precautions and shutdowns led to changes in everyday operations.  
All precautions are taken at Mamma's, following PA State mandates by the order of Governor Tom Wolf. 
"All tables are spaced out, masks are required, and all tables are sanitized," Conigliaro said. This is done to keep everyone safe and continued to come in the business as needed.
At the beginning of lockdown, restaurants were not able to have dine-in customers, only allowing take-out orders. While Mamma's does not usually offer delivery orders, they began to change that during the lockdown from March to July.
"[Business] slowed down in the beginning then we decided to open delivery during lockdown and there was a very positive outcome. Takeout and delivery have really helped the business," Conigliaro said. 
There were no layoffs for employees, and actually, business increased when takeout and delivery became the only pandemic options for customers.
Restaurant History
It all started when Conigliaro's grandparents came to America. They needed a plan to support their family, so they opened a restaurant and found passion in their family business.
Family is a big part of the restaurant, as most of Conigliaro's family is involved.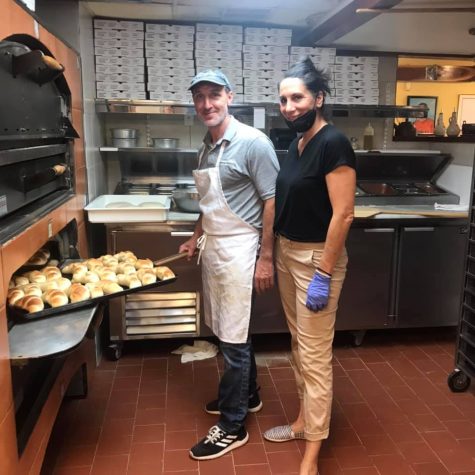 "Everyone does their part to keep the business running smoothly," Conigliaro said. 
Conigliaro's father, Joe, and uncle, Frank, are the main people currently running the restaurant.
"My dad does inventory and my uncle cooks and does most of the prep work. A close family friend, Marlea makes the schedule every week and does paychecks," Conigliaro said. 
Conigiliaro is a busboy, he refills drinks, cleans/clears the tables. He doesn't have a lot of responsibility as an employee just yet as a 14 year old. He only works 4 hours a week.
33 years of business is a lot of hard-work and time put into the restaurant. Conigliaro has seen all of this dedication and it has taught him a lot of things about his life and his future endeavors. 
"Growing up, I learned many things from the business. Watching my family constantly working hard and also having a life outside the business has taught me to be diligent and grateful for everything I have," Conigliaro said. 
Although both sons work at the restaurant, they aren't expected to work there after college. Their parents are hoping for them to achieve bigger opportunities and find their own passion.
Mamma's continues to serve the local community with many menu options. So, what are the family favorites? 
Noah's favorites are the ham and cheese sub and chicken tenders. He also loves pizza shop bread. But he says there's something for everyone at Mamma's.
"I recommend branching out and trying something new!" Conigliaro said.