Faculty Holiday Card…..COVID Style
Unable to gather in a large group for the annual faculty photo, DHS goes digital with a Bitmoji inspired holiday card for 2020.
It's the time of the year for ugly sweaters, neighborhood light displays, making holiday cookies, watching Christmas movies in pajamas, and sending holiday cards. This year, however, many holiday traditions are being reinvented due to COVID-19 restrictions. 
The Dallastown High School faculty holiday card is one of those traditions that looks quite different this year. 
According to Dallastown High School principal Dr. Zach Fletcher, the card normally has a group photo of the faculty and staff that is taken in the gym during an August in-service day. However, that could not happen as normal this year. 
"This summer, when planning for our in-service schedule, I knew a traditional staff photograph was going to be out of the cards. When I came across similar faculty bitmoji photographs online, I thought they were a great idea and solution. A majority of our staff was happy to participate, and I believe the photograph captured not only the strange times we are in, but also captured some of the elements that make our DAHS staff so awesome!" Fletcher said. 
Each faculty member was asked to submit a Bitmoji photo, and Fletcher was assisted by secretary Mrs. Ohl and high school paraprofessional Mrs. Markel to create the card. It took a little time to make all of the images fit together. 
The finished product includes Bitmojis of 124 staff members, including one who currently teaching at home, and it is superimposed over a photo of the stadium bleachers.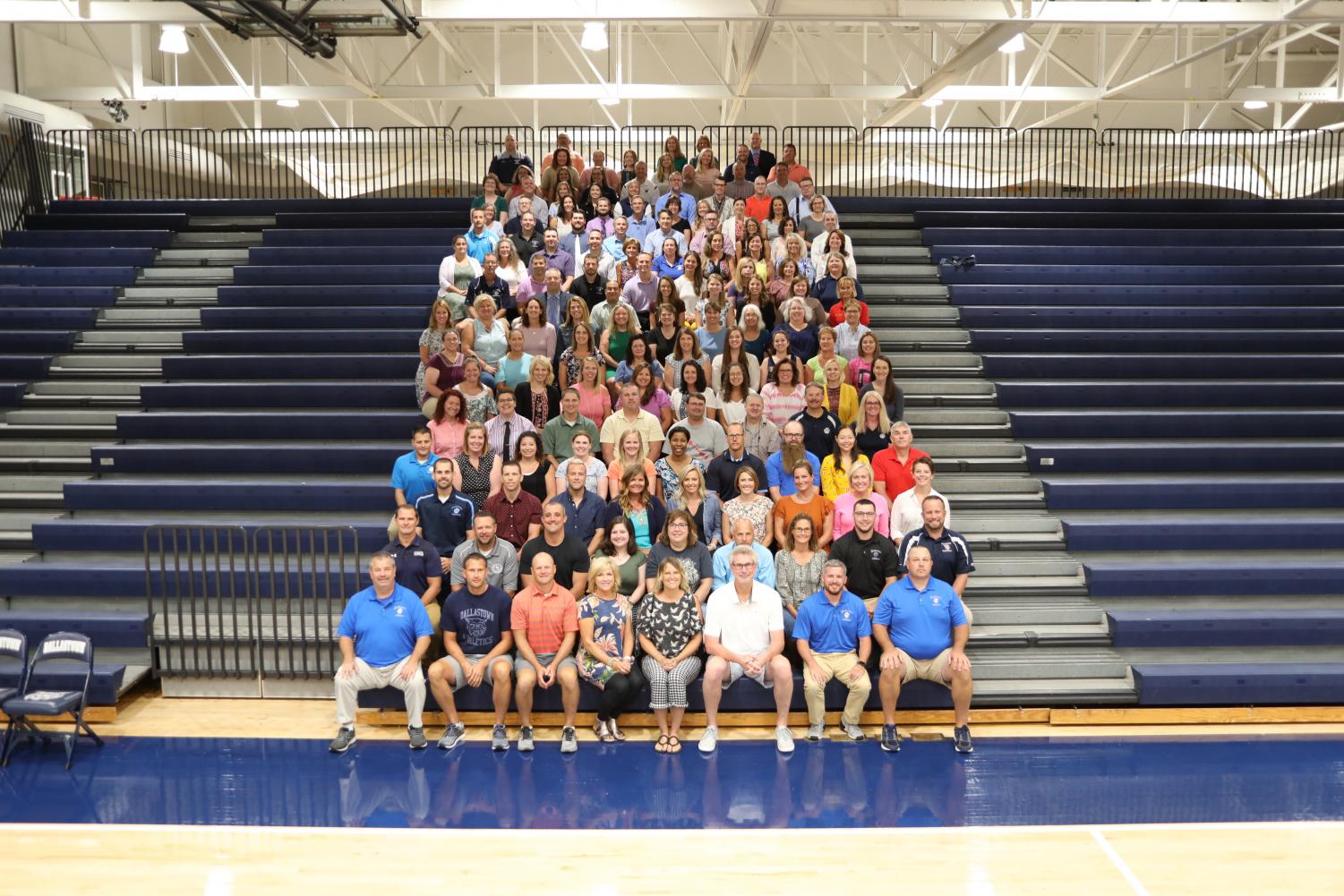 "After we had the stadium picture as the background for a the Google slide, we spent about 3 days manipulating the Bitmojis to layer them onto the photo.  I would say all in all in took almost a week to get the project from the beginning phase to what it looks like on the Christmas card," Markel said.
In addition to the card being distributed to members of the high school faculty, it has been and will be shared in several other places as well, including the school yearbook.
Social Studies teacher Mrs. Dallmeyer is also advisor of the school yearbook, The Spectator. She hopes to add the holiday card into the yearbook for everyone to see. 
"We are planning to use it in the yearbook this year.  I have Mrs. Ohl working on identifying everyone so that our students and staff can figure out who everyone is in the picture," Dallmeyer said. 
After the cards were distributed to staff, some faculty, including science teacher Mrs. Fishel posted on social media, and people loved it.
"The response on Facebook was so uplifting.  Everyone enjoyed looking at the Bitmojis and tried to figure out who was who.  Some texted me to ask where certain people were.  I had no idea who half of them were but I, along with my Facebook friends had a blast trying to figure out who everyone was," Fishel said.
One of the more popular Bitmojis belonged to Biology teacher Mrs. Lloyd. She is displayed near the center with her cat.
"Mrs. Markel (who was my student in 10th grade) told me that some teachers were including funny Bitmoji options. I went back and added an option with my cat. I had no idea that they would pick that one until I saw the card in my mailbox. My real cat's name is Oakley, and he is all white with one blue and one green eye," Lloyd said.
Even with COVID-19 pandemic, the Dallastown Faculty are still in the spirit for the holidays, and Counseling secretary Mrs. Beck loves it. 
"The Counseling Office had so much fun creating Bitmojis and trying to figure out who was who on the card. Who would have thought that a card would bring so much joy during such a challenging time?  I vote we do this every year!" Beck said.