Homecoming 2.0
Student Council works to incorporate traditional events into a not so traditional year.
Homecoming is a one of the biggest high school traditions, and it's also one of Dallastown Student Council's biggest events each year. 
In late September, Dr. Fletcher came onto the morning announcements to say that this year's Homecoming and its related activities would be postponed. He expressed hope that they may be able to be rescheduled for later in the year.
This past week, Student Council was able to make at least one part of Homecoming happen. 
"We are very excited that we were able to still have the opportunity to do the court, and are happy that the athletic department has been able to work with us in order to announce the winners at the basketball game," Student Council President Maddie Rodriguez said. 
The court was nominated by the Class of 2021 and voting was open online. The King and Queen were crowned at the live streamed boys basketball game against Red Lion on Feb. 23. 
The 2020-2021 Homecoming King and Queen are Nigel Powell and Myra Striebig.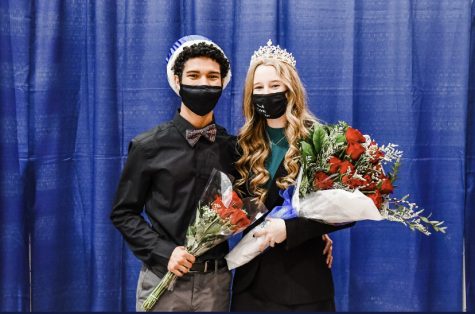 "We've been dating for almost four years, we didn't expect to win at all and it was a good feeling seeing everyone all dressed up then winning made us feel so good, overall it was a great day!" Powell said.
Striebig agreed.
"It was so exciting, but I was nervous before. I didn't expect to win until I heard Nigel's name being called. I was hoping it would be me and him together, but in all honesty, I was so happy Nigel won."
Homecoming dances started in the early 1900's and over the years have come to include homecoming football games, and the crowning of dance royalty. 
At Dallastown,  the first king wasn't crowned until the fall of 2004.
Another tradition that Dallastown loves is a Powderpuff game.
Powderpuff is a game where the girls play flag football and the boys cheer for them often including  a halftime dance for the audience to enjoy. 
Student Council has also postponed this event to the spring, in hopes that the restrictions for gathering are  not as severe. 
"In an ideal world, we could potentially hold this event in the spring when the weather is nicer and maybe the virus restrictions are not so severe,"  Student Council Adviser Mrs. Boyd said.
The goal is to have as much of a normal school year as possible for the students of DHS. 
"While a homecoming court may not be something that everyone cares about, it is important to many people.  The idea of the court was to simply maintain our traditions at the school—especially for our seniors.  While we may not be able to maintain every event, we are certainly going to try to preserve our traditions," Boyd said.