Joining the Club: Winter Athletes Reach Milestones
Dallastown basketball and wrestling programs add Michael Dickson and Brooks Gable to the list of names in their 1000-point and 100-win clubs.
Michael Dickson and Brooks Gable didn't know if they'd get a chance to compete in their senior seasons at DHS. 
The two Wildcat athletes knew that even if their sports started, they could end at any time, and they would certainly look different from years past. 
"Being shutdown due to COVID was definitely on my mind at all times," basketball standout Dickson said. 
Gable, a four-year starter on the wrestling team shared concerns as well.
"I figured that the chance of a contact sport like wrestling happening were super slim, and even if it did, the rules and regulations would be unbearable." 
Winter sports at Dallastown ended up having their seasons with mask requirements, limitation of fans, and other accommodations. 
The sports looked and felt a little different, but that didn't stop these athletes from reaching and exceeding their full potential. 
As a matter of fact, these two Wildcats found a way to make this year one for the record books, literally.
Dickson, who came to DHS his sophomore year after playing with West York and York Country Day, scored his 1,000th point on Feb. 12 at their game in Southwestern territory.
"I am very happy to have accomplished what very few high school players have achieved in their high school career," Dickson said. 
He became the 10th player to go down in Dallastown boys basketball history, following Four McGlynn who was most recently recognized in 2011.
Gable followed the next day by earning his 100th win as a Wildcat wrestler on Feb. 13 at their home match against Red Land.
He became the third Gable in Dallastown's wrestling program to reach 100 wins joining his father, head coach Dave Gable (1982), and his brother, Clay Gable (2009). 
"It was really exciting to join my dad and brother in this accomplishment and just to see my senior year topped off by something that I worked hard for," Gable said.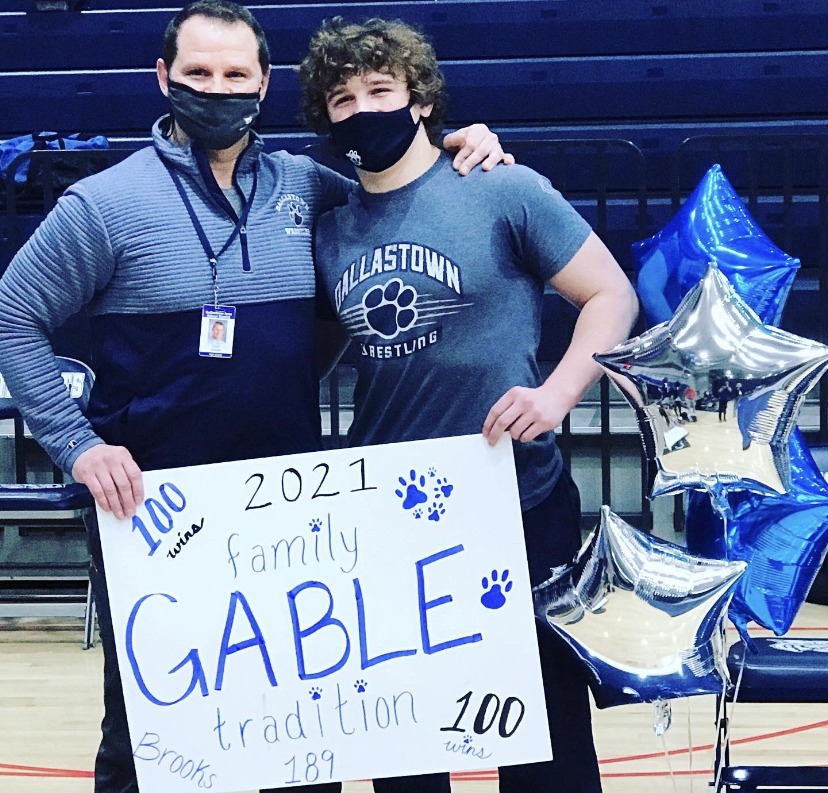 Coaches for both teams say that their work ethic, off-season training, and chemistry with their teammates were key to their success. 
"I am very proud of all that Brooks has accomplished in the sport of wrestling. Winning 100 matches is a very notable bench mark in wrestling that is a compilation of many good training partners and opportunities at Dallastown," said Gable's father and coach.
Dickson's coach for the boys basketball team, Michael Grassel, has similar remarks on his player's abilities.
"Michael is a great teammate, energetic each and every day and the epitome of a hard worker. Many people do not see the hard work, blood, sweat and tears that goes into training in the off-season to get to the level that Michael is currently at," Grassel said.
The two athletes share a lot in common, even though they had never met prior to being interviewed and photographed for this article. 
One key similarity present in both athletes' upbringings is the iconic brother relationship as well as the love and importance of family.
Dickson grew up watching his brothers Joseph Kennedy and Stephen Dickson play at York High, and they now return the favor watching him.
"I want to thank my older brothers for introducing me to the love of the game of basketball," Dickson said.
For Gable, it was both his father and his older brother Clay who encouraged him to take up the sport. 
"Not only is just the general support of my family amazing, but I have a father and brother who were both very successful and helped me to become who I am," Gable said. 
Both athletes agree that they would not be where they are today without the roles their families have played and continue to play in their lives as well as the confidence their families have instilled in them.
Looking back on their journeys, both athletes consider their favorite memory as a Wildcat.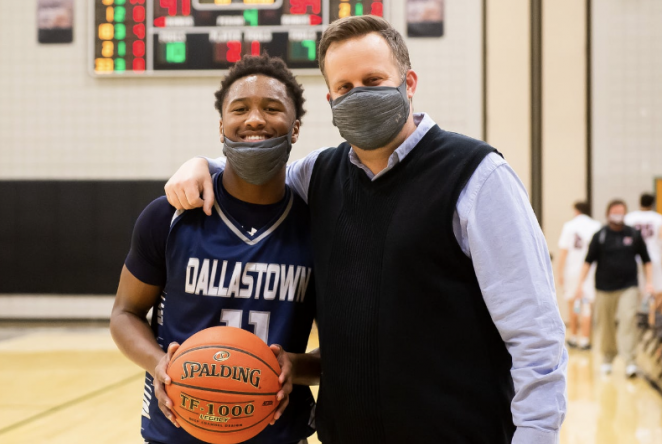 For Dickson, it was winning the York Suburban Tip Off Tournament his junior year, as well as the MVP award shortly after.
For Gable, it was the excitement after winning major team duals such as beating Central Dauphin in the District III team tournament semifinals last year.
With bright futures ahead, Gable plans to attend the Air Force Academy to continue his studies and love for wrestling while Dickson's plans consist of playing basketball at the collegiate level, attending a four year university majoring in business management.
Regardless of the changes that were brought about this year, Dickson and Gable not only achieved 1000 points and 100 wins, they also earned end of season accolades with Dickson winning YAIAA Co-Player of the Year, and Gable earning a 7th place medal in the PIAA State Tournament. 
As these senior athletes reach the end of their high school careers, the names Michael Dickson and Brooks Gable will be forever engraved in Wildcat history as a result of their perseverance and dedication.
Not bad for a season that almost didn't happen.