Teachers In A Pandemic Part 1: Raising Infants and Toddlers
Dallastown faculty share their experience teaching and being a parent at the same time this past year.
Teaching in a pandemic is one of the hardest jobs right now in the world. Being a parent, while juggling a teaching career, is also extremely hard.
Dallastown teachers have experienced both.
Having Babies In The Middle Of A Pandemic
Mr. Donatelli, a teacher in the Business department at DAHS, and his wife gave birth in April of 2020. 
"My wife Emily and I gave birth to our second son Grant on April 24, 2020. The hospital was very clean, everyone had to wear masks, and the staff did a terrific job attending to our needs."
Masks were mandated on April 28, 2020 as required by CDC, but encouraged in March. 
"While my wife was tested for COVID prior to the hospital, I wasn't, so I had to wear a mask at all times," said Mr. Mohar, a teacher in the English department.
After her son, Maverick, was born, Mrs. Gaynor, a teacher in the Science department, shared that he was in the NICU for 10 days.
"When he was born, it was an overall very overwhelming experience, not to mention the COVID regulations with going into the NICU. We had to wear masks the whole time, so he never got to see our smiles until we got home with him."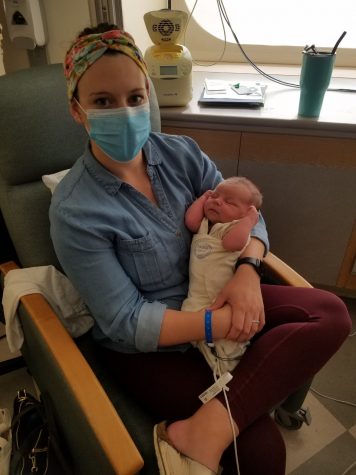 Gaynor and many other teachers mentioned that it was easier to not have visitors because there was more time to spend together.  
"Not having visitors was actually quite nice, I can't imagine having to juggle seeing people while dealing with all his health issues/talking with doctors," says Gaynor
She had a first-time experience at the hospital, having to wear masks and giving birth in September of 2020 as well. 
"It was very bizarre. I had a scheduled C-section, so we knew the day/time we were having the baby. I had to get a COVID test prior to it and quarantine for a full 2 weeks to avoid exposure. At the time, I was told by my doctor that if I tested positive, I could be quarantined from my baby and not allowed to see him, which was very scary." 
Masks Worn On Children
Mohar's 4-year-old son, Calvin has adapted well to wearing masks, along with many other teachers.
"My oldest [Calvin] would say we have to wear them 'because of the germs.'"
Mr. Donatelli's 3-year-old son, Landon has adapted well in daycare and many other places. 
"My wife and I had to communicate with Landon about protecting other people from getting sick and we explained that masks protect ourselves as well."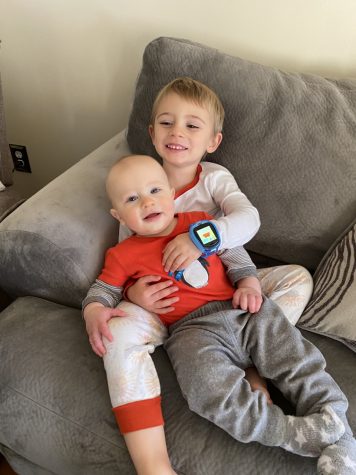 Many teachers including Mr. Zelger, a psychology teacher, and Gaynor, have children who are two or younger and are adapting well to it. 
"It's funny now that he's a little older, when we are wearing masks he tries to take them off. I think he thinks it's a game," says Gaynor.
 Zelger said, "[Nathaniel] doesn't seem to even notice other than occasionally pulling on mine."
What It Was Like To Go Back to School Full-Time
In September, when students were expected to go back to school in-person/virtually and having to wear masks and social distance, it was much harder for teachers to leave their younger child for the day and go to school. 
Gaynor shares that when she was on maternity leave up until November of 2020, she brought her infant often on camera when she had to do Zoom classes. 
"It was really challenging to work from home with an infant. While the school day follows a strict schedule of when class starts/ends, his schedule is much less organized! Many of my zoom classes got to see him while I explained the assignments."
While on lockdown, teachers loved being home with their children. Many say it was a blessing in disguise. 
"I have been blessed to have lots of summer time for bonding, but being 'stuck' with each other, especially last spring and summer, was a pretty bright silver lining to the pandemic. We spent most of our time exploring–walking and running together. I kept track of our miles when the shutdown began. We wound up logging over 500 miles together. He's definitely my little best friend," says Mohar.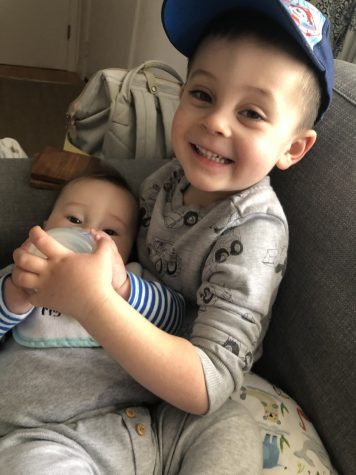 Teachers including Zelger, Donatelli and Gaynor also shared how much they enjoyed being with their children. 
Gaynor explained that she loved being home and enjoys every chance she gets to be with him. She mentioned that, "Being a working mom can be really difficult, and I feel like I miss a lot."
"I tell everyone that last spring was the best time of my life spending so much time with my son and my wife and being able to work from home.  I still at times wish I had a job in which I could always work from home," said Zelger.
This is the first in a three-part series about teachers at Dallastown juggling family life and educational responsibilities during the COVID crisis.