Polar Pop: "Freezin' For a Reason" 2021 Style
Dallastown students and faculty participated in Special Olympics of Pennsylvania's annual fundraiser by popping ice-cold water balloons over their heads.
Winter is normally a cold time of the year in south-central Pennsylvania, but for some, they were willing to pop an ice-cold balloon of water over their heads for a good cause
For the past several years, the Dallastown unified club, which focuses on the inclusion and collaboration of kids with and without physical and/or mental disabilities, sent students and faculty to John Wright Restaurant to plunge into the Susquehanna River. 
The event normally takes place in February so the water is cold and the plunge shows dedication towards unification.
With COVID-19 restrictions, the Special Olympics of Pennsylvania (SOPA) needed to come up with a safer activity that can still raise awareness and money about the event. 
It was decided that the event would take place via zoom and rather than trudging into the Susquehanna River, participants would pop ice-cold water balloons over their heads.
Deb Gable, Dallastown math teacher and one of the unified club advisors, participated in both the polar plunge last year and the polar pop this year. According to Gable, the money raised goes to support local schools unified programs.
"Every school that wants to start a program has 3 years that Special Olympics will support them.  After that, the school must support the program financially.  Raising money for Special Olympics through the pop assures that other schools can start programs… [which] will help continue our Unified Initiative throughout the county to build and get stronger," Gable said.
Dallastown's dean of students, Mr. Hostetter, also popped a water balloon over his head prior to the event. The intent was to raise awareness of the actual event.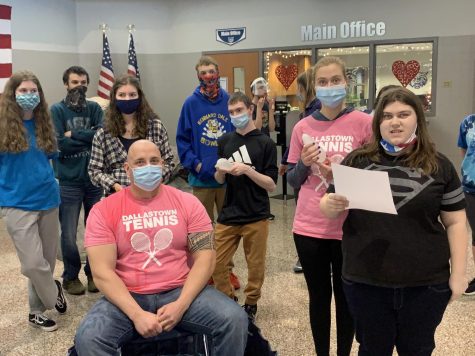 Dallastown senior, Katie Queenan, also participated in the event this year. For Queenan, it was important for her to participate due in part to the fact that she's been involved in Special Olympics in all four years of high school.
"I asked my friend Michael from the autistic support class to come over to pop balloons on my head. We had so much fun, and it was great to get him involved without needing to get wet," Queenan said.
Gable also agreed with Queenan that the pop was a great way for all to get involved.
"Everyone can pop a cold balloon over your head as compared to submerging your body in the freezing cold Susquehanna River!," Gable responded.
Kevin Myers, a tech-ed teacher and unified club advisor as well as unified track coach, also described the event.
"Since the Polar Plunge was canceled, Special Olympics created the Polar Pop.  Basically, you raised funds like in the past, but instead of plunging into a cold river or lake, you popped a balloon filled with cold water over your head," Myers said.
Myers also noted that Dallastown Unified Club raised over $1,500 to support the funding of a local school's unified program prior to the actual event on Feb. 28.
Dallastown followed the Special Olympics of Pennsylvania's winter fundraiser motto, "freezin' for a reason" for a better, more inclusive tomorrow!