The Patton & Snyder Podcast
Two seniors take their comedic attitudes and athletic knowledge to create an entertaining podcast.
Podcasts have been around since the 1980s. It wasn't until the past few years, however, that they became more popular as a result of audio platforms like Spotify and Apple Music.
Two Dallastown seniors, Ryan Snyder and Sam Patton, have recently started a podcast of their own and it's been a dream come true.
Creating a podcast was something Patton always wanted to pursue.
"I had gone to Ryan one day about it and it had always been something I wanted to do, I just could never find the right partner. I pitched the idea to Ryan and we basically ran from there. This led to The Patton & Snyder Podcast."
Both seniors have viewed a lot of popular talk shows for years. They have a love and drive for the industry and it's something Patton has wanted to do since he bought a computer.
"The main goal of the podcast is to do something Sam and I both enjoy. We have always talked about sports together growing up, and now we get to talk about it to our listeners too, as well as, answer some of their questions." Snyder said.
Currently, there is 1 season of The Patton & Snyder Podcast with 8 episodes and a new podcast coming out every week. Their first Podcast was recorded on March 10, 2021. Patton and Snyder typically record a new episode every Wednesday, either by themselves or with a new guest.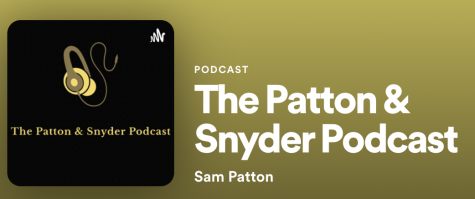 The overall process when coming up with ideas for the podcast is done primarily on social media.
"I do a lot of the social media stuff as far as figuring out what the fans want for new episodes or guests-" Patton says.
"Ryan handles a lot of the day-to-day notes and topics on what's happening in sports. Then, we both go over them and double-check that it's all up to date… Then it's go time!".
Patton and Snyder record their podcast as if they're on a phone call, however, they have new recording equipment coming. They currently use an app called Anchor which allows them to do it from their cell phones. This way their podcasts are free to anyone that would like to listen.
As of now, neither Snyder nor Patton have any intentions of stopping the podcast after High School. "If something happened where Ryan could not continue with me, I'd keep it going. I have a very real passion and love to entertain especially in sports." Patton says.
Snyder and Patton had similar thoughts for the future. "We have so much to improve on: having more guests, getting better equipment, figuring out new social media tactics, and eventually trying to have a live show,"  Patton says.
"The future could take us anywhere. We both listen to the Pat McAfee Podcast daily, so we may eventually be able to have a setup like his with camera videoing a live feed through YouTube." Snyder adds on.
Both seniors are extremely happy about their decision to start the podcast and are excited to see where the future takes them. They plan on continuing the podcast and uploading episodes as much as possible.