Pursuing Pandemic Passions
When the pandemic first hit, many people found themselves bored. A few notable students found passion projects to occupy their time.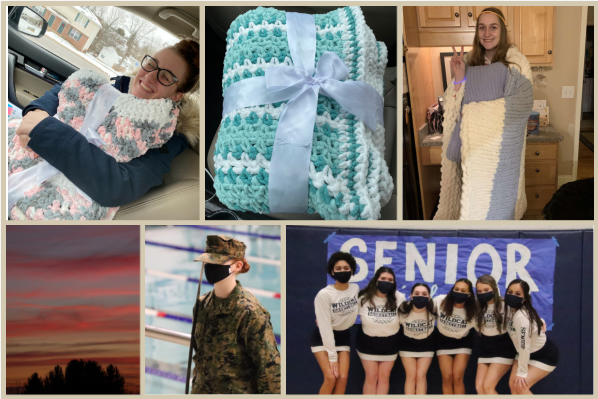 March 13, 2020.
A day no one will forget. The day the world came to a screeching halt before our eyes.
Our lives seemingly went from a thousand miles an hour to zero. Parties, sporting events, school, and work all became less important than the health of our communities. 
With so much time on our hands at home, many found themselves bored; others found a passion and used that to fill their time.
For Dallastown students, these passions ranged anywhere from starting to crochet to using photography as an excuse to get out of the house, as well as document the odd times.
Sophomore Hanna Atkinson has loved taking photos for years, and she continued her love of photography throughout the pandemic. 
"My parents first got a camera in the spring of my 7th-grade year, I was still playing soccer and only dabbled in photography. In 8th grade is when I really started to take pictures during soccer games and baseball games since my brother played," Atkinson said.
Atkinson used her camera to capture the early months of the pandemic, but also notes that photography has always had a  positive impact on her life.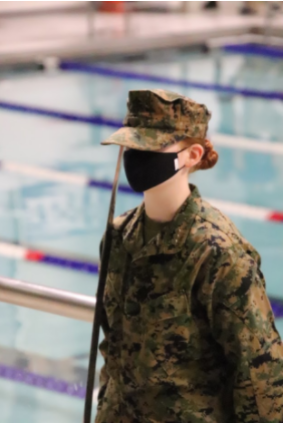 "It helps me mentally, it gets me out of the house, I get to see people, and I get to meet people that I probably would never meet if I hadn't started photography," Atkinson explained.
Atkinson's favorite pictures to take are sports and animals, but she loves to try out new styles and techniques. 
Atkinson's love for photography has not made her want to become a full-time photographer, however, she hopes to continue photography as a passion during college and beyond.
"I don't think I would become a full-time photographer since the industry isn't at a full-time job place, it most likely will become more of a side job for me in college and potentially in my adult years," Atkinson mentioned.
For Atkinson, the pandemic helped her passion to flourish because of the unique circumstances it provided.
"Covid positively affected my passion only because it made it possible for me to see how far I could go with taking photos. I could go to more sporting events, I could take pictures of my senior friends for their senior portraits, and I could find ways to do more fun things with the camera that I have," Atkinson commented.
Photography wasn't the only notable pandemic passion in Dallastown. 
Senior Chloe Fleurie started crocheting in the midst of the pandemic to conquer her boredom and to make gifts for friends and family.
"For my friend's birthday, Gillian Cunningham, I decided to crochet a blanket for her. It was called finger crocheting I think, so it wasn't with a hook but it turned out really well and she loved it. That was back in August 2020," Fleurie noted.
Fleurie has come to really enjoy crocheting because of the relaxation factor of it.
"
I definitely suggest trying it or picking up a hobby that is relaxing for you to do because it could help a lot!"
— Chloe Fleurie
"I don't know why, but when I crochet it helps me to relax a little while I do it. I find it a way to relieve myself from all the stress that gets built up. I think it's because I can just sit somewhere and crochet and binge watch a tv series or movies," Fleurie exclaimed.
She also noted the positives of having a hobby that you are interested in and the benefits it has given her.
"I definitely suggest trying it or picking up a hobby that is relaxing for you to do because it could help a lot! It really helped me this year because of being online for school and having to get things done before I graduate and the stress from my two jobs," Fleurie said.
Fleurie crochets blankets, which she sells, and she has tried making pillows too.
"So far, I've completed 7 blankets. I have 2 that are half complete and 2 more that I need to start. I'm trying to make a profit off of this too, so anyone can talk to me about the colors they want and the size they want," Fleurie mentioned.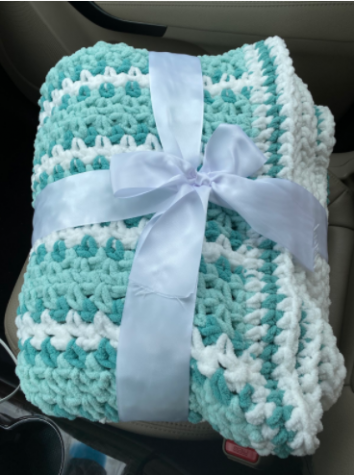 Fleurie also mentioned that she would like to start learning how to crochet other items to further her field of knowledge.
"I'd like to try making scarfs or hats or stuffed animals though. That would be pretty fun," Fleurie commented.
Just as for Atkinson, the pandemic positively impacted Fleurie's passion for crocheting because of the stress relief factor.
While there were many negative effects of the pandemic worldwide, these two ladies found passions to occupy their time and for a mental boost during these hard times.
No matter how difficult the times, there are always positives that come out of it, and students were able to demonstrate that.