Teaching In A Pandemic Part 2: Raising Kids in Grades K-6
Dallastown faculty share their experiences being a teacher and being a parent at the same time this past year.
Last month, we visited an article which discussed the difficult time Dallastown teachers experienced, while teaching. They had infants/toddlers while a worldwide pandemic was happening.
We all know it's a difficult job, now what about this?
Dallastown teachers share how they do it with kids who attend elementary school.
What It Was Like During Lockdown Last Year
Mr. Robinson, a teacher in the business department at DAHS, shared how difficult it was to maintain a balance between helping a child and doing Zoom meetings. 
He often had his children, Hunter (grade 1) and Morgan (grade 4) work with him at the dining table in the prime time of lockdown while he does Zoom with his students.
"It was not the most comfortable, nor did the timing work ideally. This school year during our remote days my daughter's desk was set up and ready so her bedroom became her classroom."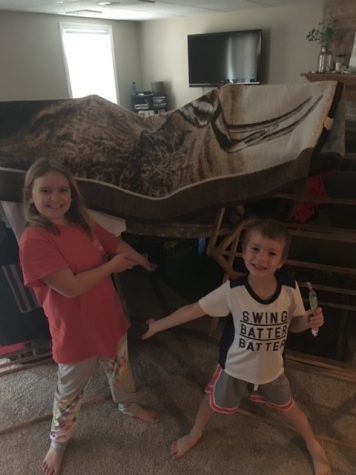 As the year progressed in summer, June of 2020, things got easier and everyone began to have a set routine. 
Robinson shared that when everything started to calm down a little bit, they found stability. 
"Towards the end of the school year we finally found a little more balance – taking particular times of a day during the week to focus on them and their learning. For us it was all about finding a routine that worked. It took a little to figure things out, but we finally found a groove the last few weeks." 
Mrs. Herman, a Spanish teacher in the World Language Department, has two children, Lola, 3-years-old, who attends Red Lion Day Care and Landry, 8-years-old, who attends Loganville Elementary, which is in the district. 
While teaching, Herman had to do three things at once, she taught at home while the two kids did Zoom.
"It was super difficult to keep them occupied while I was trying to work on school and have meetings on Zoom. Disney Plus was ESSENTIAL in our house."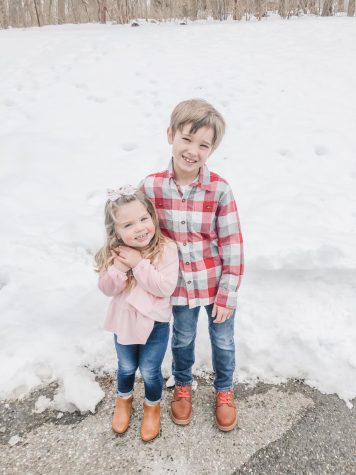 Herman's husband Chad was only home for the first two weeks during lockdown. Herman learned a lot about balancing everything, however her parents were living full-time in their house due to construction in their house.
"I relied on my mom and dad a lot. My mom and dad were building a new house at the time, and they were living with us full-time. That was a blessing to us."
Lockdown brought a lot of families together and a lot of excitement. Dallastown teachers agree. 
Mrs. Guttridge, a teacher in the business department shares her experience in the summer when there wasn't school with her son, Grady, 8-year-old, and her daughter, Myla, 11-year-old.
"During lockdown my children and I played outside more often, bounced on the trampoline A LOT, went on hikes, and played games.  We had much more time together due to their sports and activities being canceled.  We thoroughly enjoyed the slower pace of life and our time to stay home and be together," Guttridge shared.
Mrs. Klinedinst, a teacher in the consumer sciences department,  also shared about her experience as summer started, with lots of fun activities to do. 
"We spent a lot of time doing things as a family.  We went on hikes, played games, had movie nights and baked together."
As lockdown started to ease up and warm weather came, the Herman family enjoyed being outside.
"We are super lucky to live within walking distance to Lake Redman. Even though I am terrified of snakes, I took a lot of walks with my kids down to the lake. I made scavenger hunts for them. We did a lot of art, too! We made crafts every day. I actually surprise myself a bit by how much of a Pinterest-mom I was during quarantine."
Children in Different School Districts
Mrs. Pomraning, a Spanish teacher in the World Language Department, has children in different school districts unlike the other teachers. 
Pomraning has three children, Paisley 13-year-old, Briar, 12-years-old, and Sage- 8-years-old.
During lockdown, it was not difficult for Pomraning and her children, however the only difficult part she had to deal with was the internet. 
"My kids had to take turns going to their family's house for Zoom meetings or would sometimes have to miss their scheduled times with classes because our internet could not hold the call."
During the prime time of lockdown, Pomraning shared that she's fortunate to have her kids' grandparents near-by. They're neighbors!
"We live next to my husband's family farm, so we made a lot of fires, went to the barn, had picnics, went fishing, paddle boated in the pond, and spent the days working outside.  We enjoyed completing projects on the farm and even raised chickens and ducks during quarantine and made a grape arbor out old telephone poles and installed a small pool. Now we have a sweet, summer hang out area for years to come."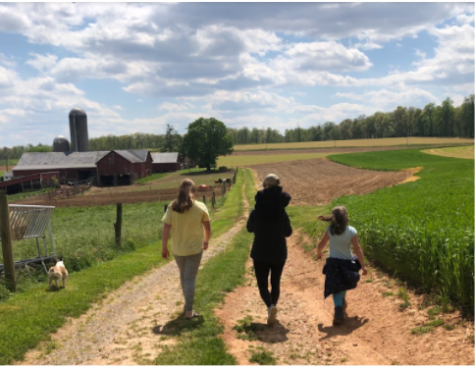 Pomraning and her children suddenly got sick at home not too long ago, and they all have to quarantine themselves for 14 days.
"Recently, my kids complained of a headache and I had them tested for COVID-19 and it came back positive.  My husband and I also tested positive. I had my vaccine, but since I am living in the same house and my contact level is so high, I still contracted the virus.  It has been difficult teaching from home while sick, taking care of my family, and having my kids try to complete school work."
When Lockdown Ended and Reality Started
When school started August of 2020, many teachers returned to work.
Many children have been exposed to COVID-19 directly from being in-person.
"When we started the school year I had a lot of mixed feelings about sending them to school in person.  I worried about them getting Covid and all of the unknown surrounding closure of the school and inconsistent learning.  After going back I knew that I made the right decision for my kids," said Guttridge.
Robinson shared that it was fairly easy for his kids to be occupied, but his Kindergartener was struggling to be more focused. Robinson shares that it was difficult because of technology. 
He admits, "I will openly acknowledge my terrible parenting skills – my kids did not find it difficult because they had iPads/Nintendo Switches/outdoor activities to entertain them while I focused on school. That said, it was tough to get my (at the time) kindergarten boy started on his work and have him stay focused and complete it while I attended a Google Meet session."
Klinedinst shared that she wasn't too concerned about her older daughter, who is in 7th grade. However, she has a 5th grader as well and shared her concerns about letting them stay home by themselves because her and her husband, Mr. Klinedinst also teaches at Dallastown.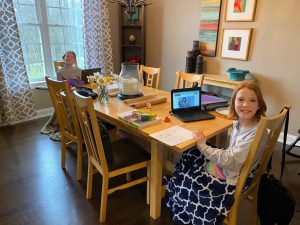 "They both did get quarantined from separate people but luckily their quarantines overlapped.  They both did a great job getting on zoom when they were supposed to and  getting their school work done.  I only had to stay home 1 day with my younger daughter."
Overall, as parents and teachers at Dallastown, it's been a difficult but rewarding experience for them all.