Ready, Set, Action!
After a COVID cancellation last spring, Student Television Network (STN) Makes comeback and Dallastown Video Production is there.
Imagine. You're in front of the camera. The camera starts to roll. Three, two, one…nothing.
That's what students across the country experienced last year during the annual STN (Student Television Network) conference including members of Dallastown's Video Production Club.
STN is a United States based program that works with students and teachers  in media programs across the nation. They predominantly work with high schools and middle schools with film and media programs, offering contests, information, and a yearly conference.
STN was formed in 1999 to provide teachers with new video opportunities. In 2004 they held their first convention and have been smooth sailing ever since, until 2020 when the pandemic hit.
Dallastown has participated in STN since 2011, sending DHS students to Los Angeles, Nashville, and a variety of other places.
In 2020 STN was to take place in Washington, DC, but with the worry of Covid-19, many students worried if it would even be held.
"I think we all had our doubts that it would continue, but we had the approval so we went to Washington D.C.," sophomore Trent Spangler, a VPC member who attended STN 2020, said.
STN was meant to take place on March 12, days before the global shutdown. Our students left DHS, arrived in D.C. and then things went wrong.
"After we saw the sights, sign up started for contests. Maybe 30 minutes after we registered D.C. had it's Covid-19 regulations changed and STN was canceled," Spangler said. 
The news, while expected, was devastating to many.
"I think the people that took this the hardest were the seniors that never experienced STN before and will never have an opportunity to go again," says Spangler. "But me personally, knowing I would have more chances at this, I walked away obviously feeling sad about this, but I still had hope for future years."
Even with the cancellation of STN, small teams still worked together on the last day of school to make the Crazy 8s short film. Crazy 8s is the team contest in STN, where a group of students work together to make a short film.
In total there are five teams. Tell the Story, Movie Trailer, PSA, Music Video, and Commentary.
Spangler was a part of the Movie Trailer team, yet only one is submitted. That year the Crazy 8s weren't submitted and were just for the experience.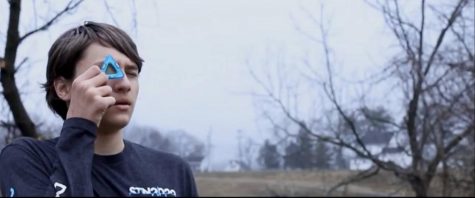 Each team had to use Magformers, the classic magnetic shapes that kids can use to build to their imagination.
"It was really fun trying to find out what to do and how to make it in the short time frame. Still, my experience with STN was good and I will participate next year if it's possible."
STN 2021 still managed to happen but was completely virtual. Spangler decided not to attend but VPC member and Sophomore Matt Borger, who attended the 2020 convention, agreed to work on the 2021 team.
"
"This year's STN was pretty different than last year's. All the excitement of running around in a new environment and rushing to create a video was pretty subdued.  Normally you film and then you get locked in the Room to edit with other people, but this year it was a lot different.""
— Matt Borger
The group for this year was described to be smaller than most years, as physical meetings were not allowed in the beginning of the year. 
"The big group film called Crazy Eights was pretty chilled out for the most part. There was no big rush and we were in a comfortable environment, so it was nothing like a usual STN." says Borger.
"We showed up at someone's house and in the middle of production and we had to go to someone else's house. I was editing the clips from the first house on the way there, which in a normal STN doesn't really happen as you get locked in a room to edit. Overall the experience was way different but it was still worth doing."
So what does this mean for STN 2022?
As of now, STN plans to return to a physical convention in Long Beach, California, February 18-21,
Dallastown plans to attend and hopes to have more VPC members join for the 2021-2022 school year.
All films are up on the Wildcat-TV YouTube, and more information is up on their website.