Dallastown Welcomes African American Literature
New this year, students can learn more about literary development in American history.
Throughout Dallastown, many English and History classes are offered to students that can be taken over the course of the year. No matter what interests someone, there's a class for everybody. 
A new class this school year is African American Literature. The course is a broad overview of the development of African-American Literature from the 1600s to today.
Students work to read and observe the characteristics of each era of literary development in African American history, while also examining modern works and the value they have in our current society.
English teacher Mrs. Yuninger wanted to teach the class for her own interest in multicultural and anti-racist literature. She had the opportunity to help a student bring their vision to life, which is really what drove her efforts to make the course the very best it can be.
"I had a concentration in post-colonialism in my junior and senior years of my undergraduate English major at Dickinson, which isn't African American literature but does encompass literature of many African nations. There's a good deal of common themes and styles," Yuninger said.
While still attending school, the variety of classes she took interested and inspired her to continue learning and reading about similar items today.  It motivated her to learn more before DHS offered the course to students. 
"Then, of course, I've been immersing myself in as much African American lit as possible during my off-hours and during the summers. I was able to attend a number of virtual conferences and workshops with notable authors such as Jason Reynolds and Angie Thomas during this past summer to help get myself and the course ready." 
For quite some time, Dallastown had been looking for a way to incorporate a multicultural elective into course options.
Three years ago, one of Yuninger's 10th grade Honors English students, Halima Koroma, pitched the idea in her Informed Citizen Presentation, not realizing Superintendent Dr. Doll was in the audience.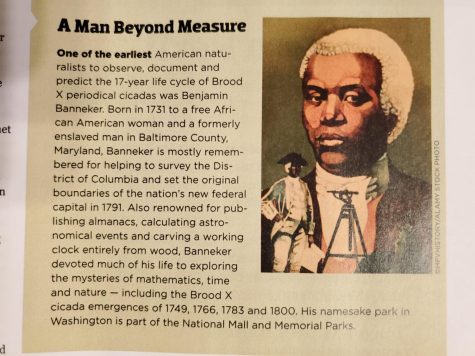 "Her focus was helping bridge the racial divide that is at the root of our national crisis that gave rise to the Black Lives Matter movement, and her solution was to demystify "the other," because it is easy to fear people you don't know," Yuninger said. 
Nobody in the class really expected Halima's presentation to take off and start the momentum to add this course into the school's curriculum.
"A course in African American studies was the actionable solution she pitched, and, impressed with her research and well-prepared speech, Dr. Doll gave her his contact information afterward. He also sent me a new course approval form as well as several examples of how other teachers had successfully put together new classes the school board had recently approved."
While this school year hasn't been like years in the past, DHS is trying to make this year the most fun. Field trips aren't happening as much, so the class found ways to bring the outside entertainment in. 
Yuninger's class partnered with Everyman Theatre to be able to bring the performance of Queens Girl in the World as a virtual field trip. The students benefited from seeing a living playwright's work and then got the chance to speak directly via Zoom to the performer and playwright.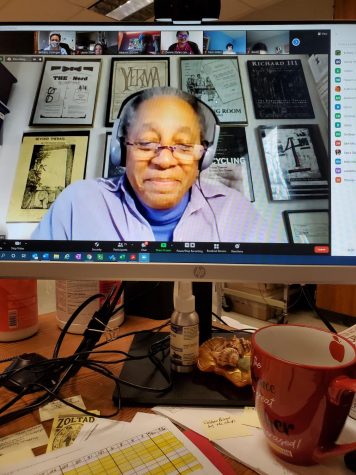 Each member of the class creates and presents a "Passion Project." Senior Malaysha Ellis chose to present hers about the assimilation of white culture and its effects on people of color. 
The projects were particularly moving for Yuninger.
"I had goosebumps – literal goosebumps on my arms – watching the first class's Passion Project presentations at the end of the course. Some of the students went all-out and really put together impressive research and, frankly, touching statements of how the project and class have touched their lives. Those are the moments that keep me going when things are tough – and this has been an incredibly tough year." Yuninger stated. 
Reading and learning about the eras of literature not only educates the students that are interested but also can mean a lot to the students who have African American ethnicity. As African Americans constitute the third largest ethnic group and the second-largest racial group in the US, students want to be able to educate their classmates on that from a different perspective. 
"I loved taking the course because it opened my eyes to the different perspectives from my black and white peers on issues I thought could only be seen one way. Everybody's opinion was valid in Mrs. Yuninger's class. We were all equal. There was no system of power. We were regarded the same way as Mrs. Yuninger because we were all working to learn more and be better," Ellis said. 
African American Literature has only been a course at DHS since the start of this school year. While four full sections of the student body have taken it so far, many students have believed that the course will impact the Dallastown High School community positively. 
Senior Gabrielle Wilson,  president of  Dallastown's BSU has also taken the course and says it really is something everyone should consider.
"I can't speak for everyone, but I think it's important for everyone to take this class, regardless of whether or not they may like it. Only because it's important to educate yourself to the best of your ability, to learn about everyone's history, literature, and culture, regardless if it's about people that look like you or not."