Hare at Home in Dallastown
A profile on Dallastown's French Teacher, Mr. Hare.
Dallastown's 400 wing is home to most of the high school's world language teachers, and while many classrooms house Spanish teachers and classes, only one houses French: the classroom of Mr. Hare.
Hare is in his fifth year of teaching at Dallastown, and he is in charge of teaching French I, II, III, Honors IV and Honors V. In addition to the French classes, Hare has also taught German I.
"I always wanted to be a teacher. I used to pretend teach to stuffed animals when I was little and I would make fake quizzes on the computer," said Hare. "I started taking French in middle school and when I went to France in high school, I knew I wanted to become a French teacher."
Hare was a 2009 graduate of Susquehannock High School where he was involved in Student Council, Big Buddy, Class Council, Varsity Club, French Club, and National Honor Society. He became a graduate of Millersville University years later. He also completed part of his collegiate experience abroad at the University of Caen in Normandy, France.
Hare has also completed his Master's degree at La Salle University.
Because Hare is Dallastown's principle French teacher, he is in charge with planning and organizing five or more classes worth of curriculum . "Many teachers teach one or two classes a day, but for some trimesters I teach four different classes all day. It is a lot of planning," Hare said.
Though there are challenges when it comes to planning, Hare is put in a special position due to his responsibility of teaching French at multiple levels.
"Unlike a lot of teachers, I see my students from 9th grade until they graduate senior year. I love seeing them become more fluent in French and getting to know them for four years," said Hare.
Though a French teacher, Hare also can speak Spanish. "I love speaking with the Senoras in my hall!" he said.
Outside of the world language hallway, Hare is an active member in Dallastown athletics as a coach for the girls' Tennis team in the falls, a Junior class advisor, and an avid volunteer on Dallastown's Mini-THON Entertainment committee.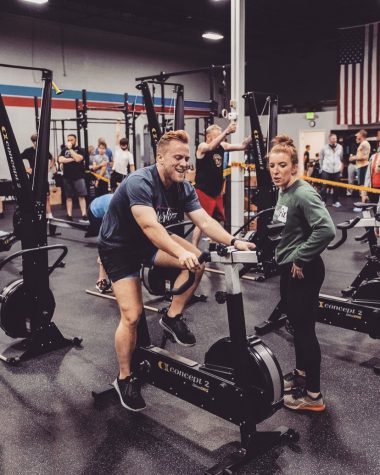 Beyond the building, Hare is active with tennis leagues in the local area and enjoys traveling, whether that be day trips to cities or visiting his friends all over the country. This year, Hare has started CrossFit.
"Mrs. Gaynor got me into CrossFit in January!" said Hare. "I go five to six times a week for a hard workout. I was named most improved athlete the other month!"
There's one thing for sure: Hare has found a home at Dallastown.