Mrs. Black Gives Back
Mrs. Black, an ESL teacher here at DHS, was inspired to pursue education after hearing her mother's childhood experiences.
Students sometimes complain about their workload or classes being difficult. Imagine that all of these classes, are in a language foreign to you. That's exactly how ESL (English as a Second Language) students are forced to learn.
Mrs. Black, a teacher at DHS, helps ESL students become confident, successful students and she is a very interesting staff member.
Black grew up in El Paso, Texas, and was a member of the soccer team at her high school, Andress High School. While in high school, Black was unsure of what career she wanted to explore.
After a conversation with her mother, who moved into the United States at age seven, Black decided that exploring the education field would be the way to go.
"She [Black's mother] was 7 years old and forced to start in Kindergarten even though she was in 2nd grade when she left South Korea. She… did not understand or speak a word of English yet so she got teased a lot," Black recalled.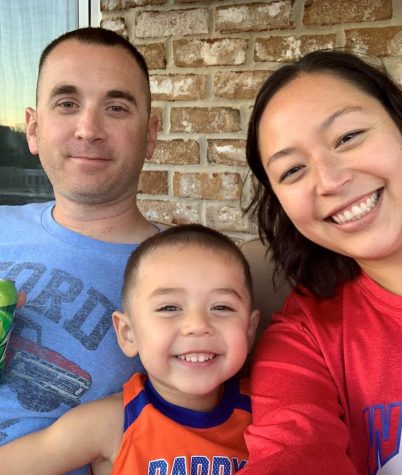 This experience was hard for Black's mom, and Black decided to pursue a field that would give back to those who were experiencing hard times like her mother once did. 
 "I realized then that I wanted to be a teacher so that I could make sure that students were not treated like my mom was. I did not realize I wanted to be an ESL teacher… until I had the opportunity to serve as a long-term substitute for an ESL class at William Penn and I fell in love with working with that group of students," Black said.
Black's love for her job has grown over the years, and this is her second year here at Dallastown. 
"My favorite part of my job is working with students and seeing that 'ah-ha' moment when they finally understand something they were struggling with," Black mentioned.
Outside of school, Black and her husband have a four-year-old son and a daughter on the way, with who she loves spending time. 
"In my free time, I love spending time with my family. My husband and I have been married for 12 years and have a 4-year-old son, and will be expecting a daughter in September 2021. I also love reading and shopping when I get some time to myself," Black explained.
It is also important for Black to raise awareness about ESL students and how hard they have to work to accomplish seemingly simple objectives for those who already primarily speak English.
"My students are learning how to read, write, speak and listen in a language they have never used before. Sometimes ESL students get the rep that they are not smart because it takes longer to learn new material or they need extra help. You have to remember that ESL students are doing double the work of students who already speak English," Black highlighted. 
ESL does not stand for "English Standard Language," it means the exact opposite and wonderful people like Mrs. Black are making a huge difference at DHS.