Sweater Weather!
Dallastown Social Studies teacher Mrs. Beyer decks the halls this season with holiday cheer.
Mrs. Beyer has been teaching at Dallastown for 18 years.
For about 10 of those years, the social studies teacher has donned festive sweaters during the holiday season. It started off with just a one week each year, and now it's every school day in December.
"I was having a rough year, and I wanted to do something that would cheer me up around the holidays. I had enough that I could do the week before break," Beyer explains.
Beyer now has 25 sweaters or vests. It took her five years to collect enough to have one for every school day.
"What really helped was in my second or third year of doing this, a lady from my church gave me a bag full of sweaters," Beyer said.
She also scavenged Gabe's, Kmart, Walmart, and Amazon for her vast sweater collection.
Beyer herself celebrates Christmas; however, she still has sweaters for other holidays, such as a light up menorah sweater, which is one of her favorites.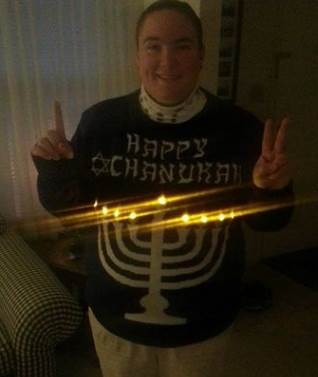 "I have a sweater with a fireplace; it has a pocket for your cellphone to play a video of a fire, and a giant Christmas tree that still has shoulder pads from the 80's or early 90's," Beyer explains.
The shoulder pads might not add holiday spirit, but they might win an ugly sweater party.
"I think the Christmas tree with the soldier pads is the ugliest," Beyer said.
You simply can't miss her bright holiday sweaters as you're walking by her room.
"
In a world where we are terrified of risk and standing out, Mrs. Beyer literally lights up the basement with her sweaters."
— Mr. Trone
Beyer claims, "I like that random students will smile or say something as they pass. It's usually 'I really like your sweater!' ,'No way! It lights up!', or 'Is that really a fire?'"
Students aren't the only ones that notice her holiday cheer. Her colleague, Mr. Trone, also appreciates her festive fits.
Trone describes Beyer's holiday habit as "epic and iconic."
"In a world where we are terrified of risk and standing out, Mrs. Beyer literally lights up the basement with her sweaters."
Her holiday sweaters aren't the only thing Beyer loves about the holidays.
Beyer explains that her favorite part of the season is " the warmths of the lights, candles, and decorations."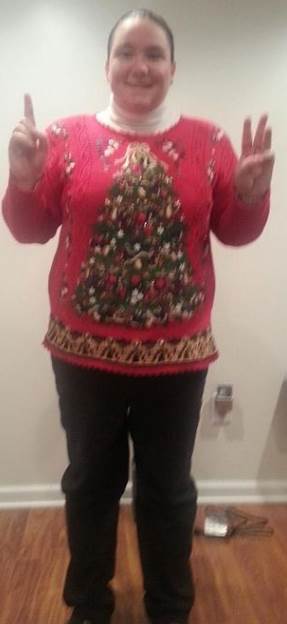 Throughout the years, other things have come along as a consequence of the sweater tradition.
"Since I've started doing this, a few of my friends and my mom have given me ugly Christmas themes items, such as a Tervis cup, ornament, hand towel, leggings, a sign, a hand sanitizer holder: etc"
In Beyer's classroom there are no Grinches allowed. All she wants for Christmas is more sweaters. She's always dressed for the coldest winter, so let it snow, and just maybe, she will light up like Rudolph's nose.