Putting the Quality in Queensgate
A highlight of some of everyone's favorite spots at Dallastown's local shopping center.
Every Dallastown student knows the dreadful time of figuring out what to do and where to go with friends.
However, little do they know there's an entire shopping center full of activities just five miles from the high school campus.
Whether it's summer, fall, winter, or spring, it's always the right time to spend a few hours in the Queensgate Towne Center.
With a wide variety of places to go to, this local shopping center keeps people busy. 
From grocery shopping to movie hopping, the Queensgate Towne Center has a spot for everybody.
Community Aid
Community Aid has been a fairly recent addition to the Queensgate Center, opening in 2019.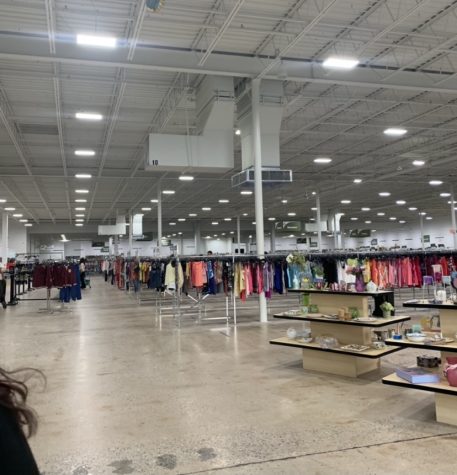 The store takes used clothes, furniture, books, etc., and sells them at a much lower price. There truly is something for everybody.
Being 36,000 square feet, this location consists of a large, wide-open shopping area. 
The organization of the store makes it easy for shoppers to find anything they need. Racks and racks of clothes greet customers as soon as they walk in the doors. 
"I love the variety they have! They always have fun little knick-knacks too." Junior Ian Kowalski said.
With special discounts each day of the week, Community Aid hasn't only been a popular hangout spot among teenagers but has been able to attract all ages.
Kung Fu Tea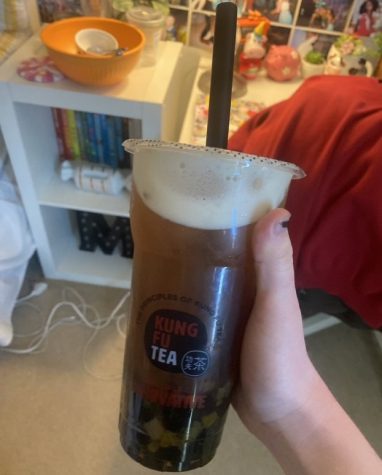 The bubble tea chain has been a Queensgate favorite, despite only opening in February. The location sits in the back corner of the shopping center, but the modern interior helps the shop stand out.
They have the options of chewy tapioca pearls, fruit-flavored popping boba, or just getting the drink itself.
Their drink menu consists of milk teas, punches, milk caps, slushes, milk strikes, and classic teas.
"I love getting the peach oolong tea with boba, it's so good!" Sophomore Meghan Kelly says.
Kung Fu Tea is the only bubble tea chain in York, making it a place that people from every district can enjoy. 
Sweet Frog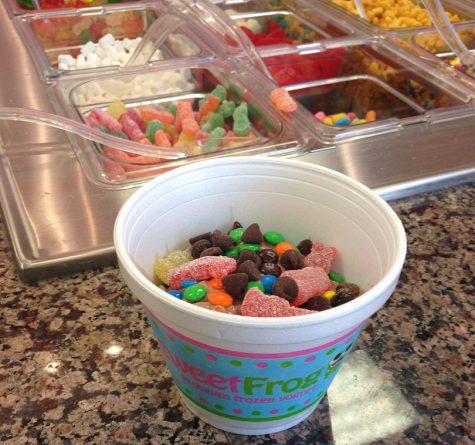 Queensgate is home to the only location of this frozen yogurt chain in York. 
Sweet Frog is set up to be able to build your own "sundae" using the numerous frozen yogurt flavors and their abundance of toppings.
The bright pink and green colors that the shop is enriched with set the perfect mood for stopping by for a quick treat.
"I really like the flavors they have, it's a really great place to hang out with friends." Junior Brooke Jordan, a frequent customer at Sweet Frog, says.
The popular fro-yo spot allows customers to make any combination of soft serve flavors with any mixture of toppings.
Mitsuru-Ya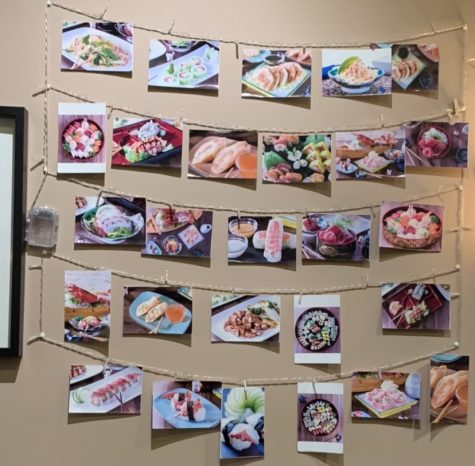 This family-owned Japanese restaurant is the only authentic sushi restaurant in Dallastown and offers sushi and hibachi meals.
While sushi might not be for everyone, this place still provides a cozy sit-down option when visiting the Queensgate center.
"They have a really good assortment of sushi!" Senior Hannah Funderburk says.
The restaurant's menu gives a variety of options to explore the Chinese and Japanese food cultures. The soups, salads, sides, and sushi rolls are fairly priced for the quality of the food.
Mitsuru offers to take out or dine-in, so it's convenient for everybody.  
RC Theatres
This new and improved version of what was formerly known as Franks Theatres has been able to keep the movie theater alive since 2005.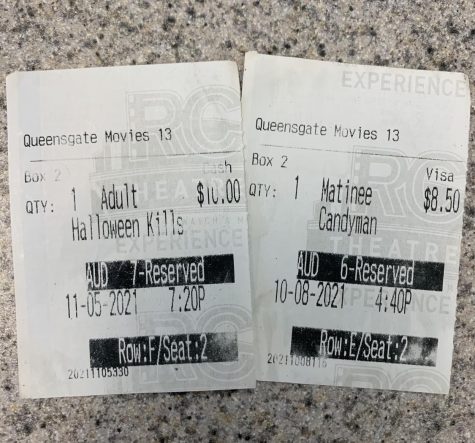 The most notable revamping of the theater is the reclined seats. The seating gives for a much more enjoyable experience during the movie.
"It's a really nice theater. The seats are comfy and I like that they have dividers between each row." Senior Hannah Dinneen says.
The theater also includes an arcade near the front entrance and an area to get food before your movie.
Standard tickets are currently $8.50 for children and seniors and $10 for adults. Tickets are able to be bought at the box office outside of the theater, online, or at a digital ticket stand inside the theater.
The theater pairs well with other food places in Queensgate if you're in the mood for movies and a treat!
Leave a Comment
Your donation will support the student journalists of Dallastown Area High School. Your contribution will allow us to purchase equipment and cover our annual website hosting costs.