Teamwork Makes the Dream Work
DHS's Boys Soccer team has had a successful season because of their family atmosphere.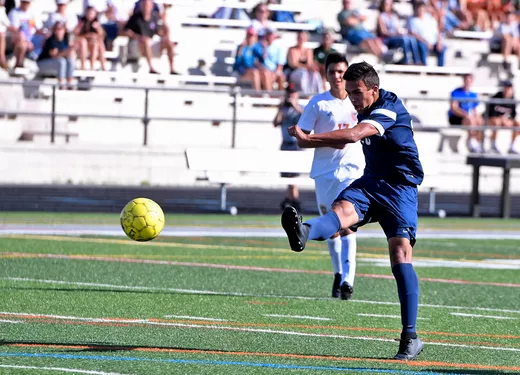 Teamwork is everything if things are going to run smoothly in any sport.
The Dallastown boys soccer team has had its fair share of ups and downs this season. They finished their season with eleven wins, seven losses, and one tie.
Team captain,  junior Gabe Wunderlich, describes his team as motivated and resilient, and Reuter describes it as one large family.
"We are all brothers," Reuter said.
Every month the team gets together and eats at Infinitos. They are all a very close team.
"This season compared to last season was such a big difference, losing to Hempfield in penalties in Districts and being one game away from States," Kyle Behlert, a sophomore player said.
The team was ranked 11 in the tournament and upset the sixth seed Chambersburg. In addition, they made it to the quarterfinals round of the district play.
They were confident they would win against Hempfield and were let down when they lost zero to one.
"The coach motivates us, boys, to play as hard as we can when we step on that field not giving up," Behlert said.
Dallastown has recently become a large rival to the Central Panthers and they were looking forward to playing against them two times this season. After the Wildcats lost their first game to the Panthers, they came back fighting.
They used teamwork and motivation from each other and their coach to win against Central one to zero the second time around.
"The most memorable moment was probably beating Central for the first time in like seven or eight years," said Wunderlich.
The 2018 all-star team was announced with senior Bennett Pitzer, senior Leo Garcia, and junior Gabe Wunderlich for the first team. Junior Carmen Ridolfi was selected for the second team.