In late August, DHS welcomed the Class of 2027, as well as new competition, to the turf.
Anna Roperti, Ella Zorbaugh and Emmerson Markel are a few new faces to Dallastown varsity field hockey. This fall they explored the world of fierce rivalry and made an impact on the team.
Dallastown head field hockey coach, Emily Taylor is very appreciative that Roperti, Zorbaugh and Markel were able to step up and leave a positive impact on the team this season.
According to coach Taylor, "at the beginning of the season, none of the freshmen were consistently starting. Anna was probably the first freshman to see starting varsity time."
Roperti began her first year of high school playing as midfield and defense. She has been playing for 6 years, since she was 8 years old, and always had a passion for the sport.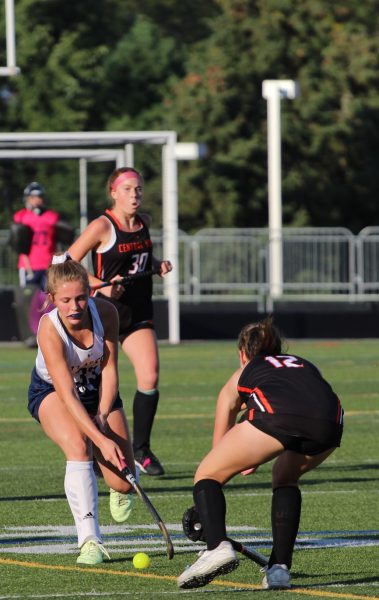 Although Roperti is already an accomplished player, she is determined to get better.
"I struggle with putting a lot of pressure on myself; feeling as if I have to prove myself to the coaches and players during every game," Roperti describes.
Alongside her struggles, Roperti is useful for making passes on the field and blocking tackles. 
"Anna is a hard worker who is very outgoing and ambitious," her fellow teammate Grace McWilliams said.
Even though the season is coming to a close, it is not the end of field hockey for Roperti. She plans on joining Alley Cats this winter, an indoor club. Roperti hopes to continue progressing through high school, with the ultimate goal of playing for a Division 1 college team.
Ella Zorbaugh plays forward for Dallastown field hockey. Despite the fact she is new to the field, she's not new to the game. Zorbaugh has been playing field hockey for 5 years and will continue to play throughout high school.
"Ella worked hard to become a starting forward after our other starter was injured and would not return for the remainder of the season," coach Taylor explains.
While Zorbaugh is a proficient player, the varsity level can still have its challenging moments.  
"I struggle with being too hard on myself when I make a mistake," she explains.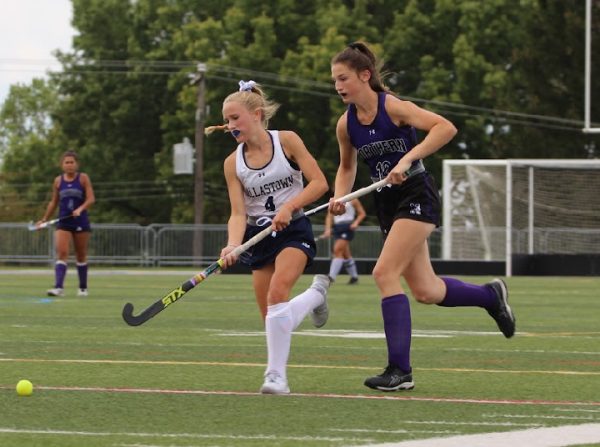 While the varsity team has difficult moments, it definitely has bonuses. 
Zorbaugh used her skills of passing, hustling and having confidence to dominate the field this season. 
Midfield and forward, Emmerson Markel started her first season of Dallastown field hockey in August, making her way to the top.
An advantage for Markel is that her mom was a field hockey coach for DAMS.
Since she was in 2nd grade, she tagged along to all the practices and games. When Markel began middle school, she found what made her happiest and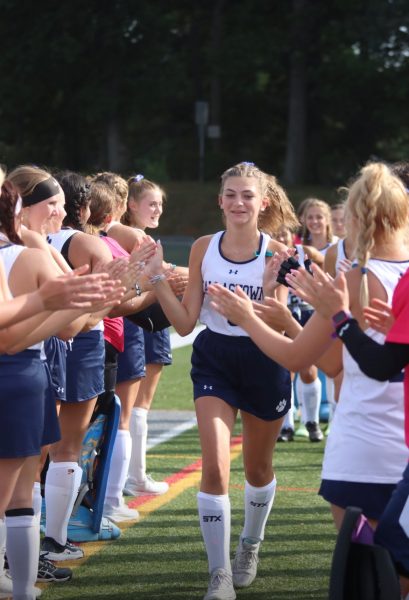 joined the team. 
The pressure of playing with teammates much older than you definitely takes a toll on you mentally. For Markel, it was challenging to set goals and not meet them.
"I was also working to always play up to my own standards and the coaches to seal my spot on varsity, which came with unexpected pressure," she shared. 
Even when you feel like you are at the lowest, it's good to remember why you started in the first place. Markel is outstanding with her awareness of her other teammates on the field and outlasting her opponents.
"When given the chance, I pass the ball which makes it easier to advance up the field quicker," she described. 
Emmerson Markel has been in her sister's footsteps for years, but is finally making her own entrance to the team. 
"In the last two games of the season, Emmerson stepped up as a role midfield player," coach Taylor says.
The DHS field hockey team has an abundance of excelling players, who all worked very hard to earn their position. These freshmen hope to take what they learned from their first year and apply it to the rest of their field hockey journey.