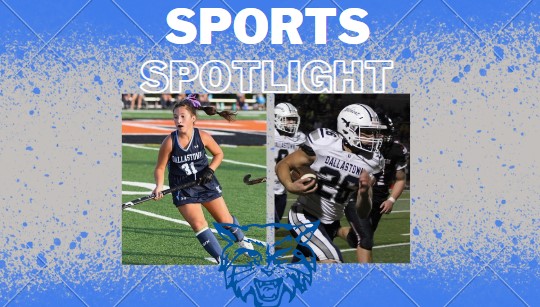 Photos submitted/Graphic Taylor Hicks
Sports Spotlight
October 21, 2022
Sarah Beck – Field Hockey
Beacon: How many years have you been playing field hockey? 
Beck: "I have been playing field hockey for nine years."
Beacon: What position(s) do you play?
Beck: "I play offense, midfield, and defense (so basically wherever my coach puts me)."
Beacon: Do you have a favorite memory while playing?
Beck: "My favorite memory was either when my team won division champions with an undefeated season in 2020, or beating Ephrata in overtime last year and making it to the second round of districts."
Beacon: What are some of your future plans after high school? 
Beck: "After I graduate, I will be attending Liberty University to major in Elementary Education. I will also be playing on Liberty's Club Field Hockey team."
Fun Questions:
Beacon: If you played another sport, what would it be?  
Beck: "If I played another sport, I would definitely play rugby. It looks really fun and challenging and those athletes are always extremely fit."
Beacon: What is your pump up song? 
Beck: "My favorite pump up song is "Could Have Been Me" by The Struts."
Beacon: If you could host your own game show or TV competition, what would it be? 
Beck: "I would want to be the host of Jeopardy so I would look really smart by knowing all the answers to the questions. I also really like the Jeopardy theme son and a good theme song is very important to a successful show."
Leave a Comment
Drayden Lloyd – Football
Beacon: How old were you when you started playing? 
Lloyd: "I was 7 when I started playing."
Beacon: What is the best part about competing? 
Lloyd:  "The best part about competing is growing as a team and improving on the mistakes we made in previous games."
Beacon: Who inspires you as a young athlete? 
Lloyd: "As a young athlete Saquon Barkley was one of my inspirations."
Beacon: What are some goals that you hope to achieve throughout your high school career? 
Lloyd: "Some of my goals in my high school career are finishing high school strong and continuing my athletic journey."
Fun questions: 
Beacon: Who would win an arm wrestling competition on your team? 
Lloyd: "In an arm wrestling competition I think Caleb Hurst would win."
Beacon: If you just won the lottery, what would be the first thing you would do?
Lloyd: "If I won the lottery I would pay my parents house, cars, and whatever other expenses they have."
Beacon: What is your favorite thing  that you or your team does after a win? 
Lloyd: "My favorite thing my team does after a win is play party in the USA in the locker room."
Leave a Comment