Spotlight on…Health STAT Club
Dallastown's club for students interested in the medical field explores various healthcare professions and organizes service projects and fundraising events.
Dallastown's Health STAT (Students Taking Action Together) Club has gone through some changes over the past few years, but what hasn't changed is its purpose.
Formerly a chapter of HOSA, Health Occupations Students of America, Health STAT Club usually meets every other Cycle Day 4 in Room 230.
While HOSA and Health STAT are similar in their focus on health-related careers, HOSA was designed for vocational schools that have pre-nursing programs. Since Dallastown has none, club officers felt that Health STAT, a Georgia-based program, would be a better fit for Dallastown. 
Senior Siya Patel has been the President of the Health STAT club for the past two years and credits her decision to go pre-med to this club.
"
It has been the sole provider of every opportunity I have had to explore the healthcare field.
— Siya Patel
"It has been the sole provider of every opportunity I have had to explore the healthcare field. Without Health STAT, I wouldn't have been able to get experience in the health sciences, participate in outstanding programs, feel confident in my decision to go pre-med, or overall deepen my understanding of the healthcare field," Patel says.
Other students decided to become an integral part of Health STAT for different reasons. Senior Praise Antwi ran for the position of Vice President of the club due to its priority on medicinal careers.
"I was very excited to be a part of such a genuine and career-pushing club and wanted to play a more prominent role. I became the Vice president because of my high interest in the pillars of the club and because I wanted to help maintain and build on the established vision of the club, which is to introduce and expose members to many different careers in the medical field," Antwi says.
Antwi has been Vice President of the club for two years and is very proud of how far the club has come. During their bimonthly meetings, Health STAT accomplishes a variety of different things.
"[We] discuss and work on projects and learn about different diseases, treatments, and medical careers. Sometimes, we have medical students, dental students, nursing students, and other students studying in the medical field come in and talk to us about their journeys and experiences," Antwi says. 
These sessions with community members help students decide if they want to pursue a career in the medical field and then give them ideas as to what specific degree they might want to get.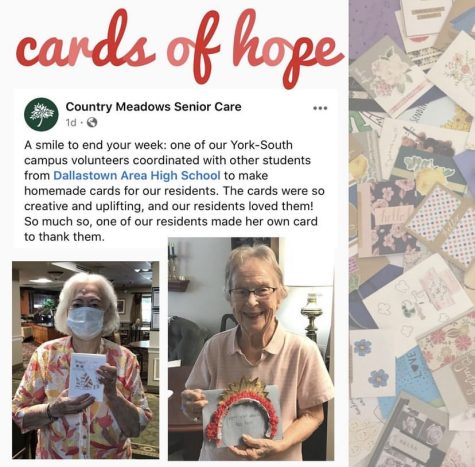 That's not all they do though. Health STAT club is the driving force behind many of the service projects and fundraising opportunities that take place in Dallastown. 
This October, Health STAT is holding a Breast Cancer Awareness fundraiser, selling merchandise and baked goods. Some of the new projects planned for the rest of the school year focus on Alzheimer's and pediatric cancer awareness.
They also plan to incorporate some of the other recurring events such as the Cards of Hope collection, the blood drive, and organ donation awareness projects.
Recently, Health STAT experienced an advisor change. Former advisor Mr. Gould made the decision to step down, which put the future of the club at stake. Without an advisor, a club at Dallastown cannot happen.
Thankfully, Mr. Daniel Herbert, a Biology, Anatomy & Physiology teacher stepped up to fill the opening, but not without a bit of persuasion. 
"Kayla Sebastian and Naiara Garcia gave me such impassioned pleas and sweet smiles I couldn't refuse," Herbert said.
Herbert enjoys the club simply because it is a club. 
"[I enjoy] that there are interested people allowing it to exist. Also, anatomy, biology, and medicine are near and dear to my heart," He said. 
New this year, Herbert plans to hold a few anatomical dissections after school for a few brave participants. "We're floating around all kinds of ideas right now," He said. 
"The Health STAT club has more to offer this year! We hope to see more new faces and expand the horizons and potential of the club!" Antwi says.
Leave a Comment
Your donation will support the student journalists of Dallastown Area High School. Your contribution will allow us to purchase equipment and cover our annual website hosting costs.