Girls Wrestling Takes The Mat
Dallastown officially sanctions the fastest growing sport in the nation and provides another opportunity for female athletes.
An opportunity arose and Dallastown took it. There are currently nine girls sports at DHS, but now female athletes will have another chance to get involved.
What was once a club is now a varsity sport in 82 PA high schools, 34 states and over 100 colleges, and universities.  Girls wrestling has become the fastest growing girls sport in the country during 2022. These facts made it an easy decision for the school board to take part in the journey and make history for the Dallastown Wildcats. 
The school board unanimously approved Girls Wrestling at the September board meeting.
Although some girls had participated in the sport in the past, last spring was the first time girls wrestling has been brought to the high school  in an organized way with with their off-season open gyms called, "Girls Try Wrestling Night." 
"We held numerous open gyms and continued to promote girls wrestling. We then went through the process and the administration and school board were in full support," Dallastown Athletic Director Mr. Joshua Lukenbaugh said. 
With these open gyms, around 10-15 girls have participated each day and already 32 girls have signed up for the 2022-2023 school year. 
"
It's been fun to watch them grow in their understanding and love of the sport. They now identify themselves as wrestlers which has been a welcome and exciting transition over the past year."
— Coach Gable
Adriana Johnson, who is one of the oldest wrestlers on the team as a junior, has shown her support for the emerging sport by taking every chance she can to practice and get ready for the upcoming season.  
"After I came to a few practices, I fell in love with the sport and I could never really find "my" sport until I started girls wrestling and I just fell in love with it and I've never really missed practice since.   
Former Biology teacher, Mr. David Gable, who retired at the end of last year after being the varsity boys wrestling coach for 25 years, has taken on the lead role for the girls wrestling team as the head coach. 
"I  was passionate about the initiative for girls wrestling. We have a really strong wrestling tradition at Dallastown. The combination of girls interest and administrative support made it a worthy proposition to pursue," Gable said.
So how will this work? Dallastown is only able to sponsor this program until it is approved by the PIAA.
For this program to be PIAA approved, there needs to be 100 schools that have sanctioned for girls wrestling, but right now there are only 75. This has been a huge increase since there were only 16 schools that were sanctioned in the fall. 
With many schools now jumping on board and being a part of the program, girls wrestling should be a part of the PIAA next year. This means that there will be eligibility requirements for future tryouts.  
With the current number of schools in PA that have agreed to sponsor teams, many local and state tournaments have opened up for them to compete. While Dallastown will have a girls wrestling schedule this season, they will not have an official PIAA championship until hopefully next year when the sport is sanctioned.  
22 teams from District III have agreed to sponsor girls teams. These teams include locals such as Spring Grove and South Western. These schools are league schools, which means both teams (boys and girls) will be on two different mats, but competing at the same time during this year's matches. 
For this year, most of the boys and girls wrestlers will be separated, but the girls can choose whether they want to participate in the boys wrestling program as well as the girls.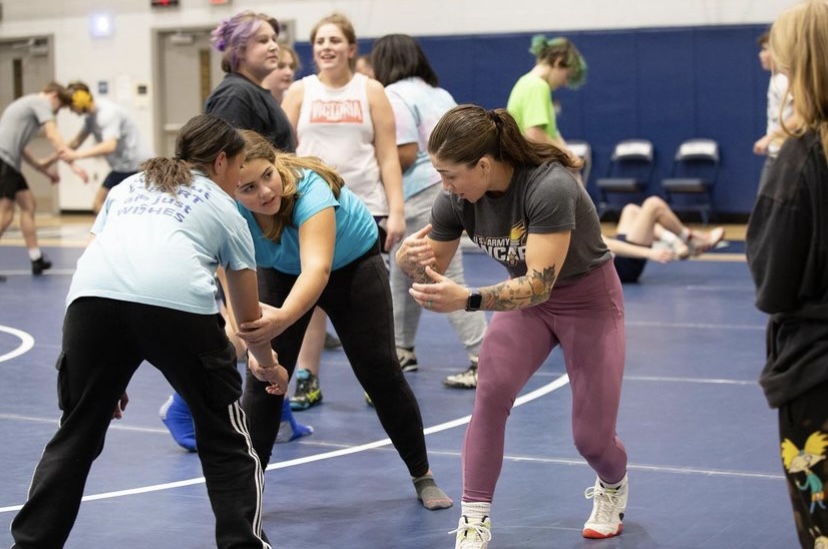 Kenna Hoffman, who is an eighth grader, has been wrestling for a couple years and was even part of the boys wrestling team in the past. 
"It was kind of stressful because I couldn't get a starter spot, but now that we have the girls team, it's a lot better and easier." 
All of the athletes that try-out  will be making the team and will have the opportunity to show off their skills on the mat in the upcoming events. 
There are some challenges moving forward including trying to find coaches, gym space, and enough officials. Due to the issues, some girls' tournaments are held on Sundays. Traditionally the boys tournaments are held on Saturdays, so gym space and officials are already booked. Many schools have the boy's coach train both teams, which also creates conflicts.
Even with the stress of trying to make this become official, there has been great support from the school district, including the boys wrestling team. 
Sophomore wrestler Evan Baldwin, has commented on the new program saying, "I think it's a great growing sport and I'm glad the team's doing it."
According to Gable, the boys team is "very supportive and help to create a positive environment for the girls. They train together in the off season and wish each other great success."
The Dallastown Athletic department is excited to see the transformation of this new sport to develop.  
"Over the next couple of years we would really like to continue to grow participation numbers. Once Girls Wrestling becomes a PIAA sanctioned sport, it will be equivalent to all other DHS sports," Luckenbaugh said. 
These girls, some  who have just started to wrestle for the first time, have improved their skills tremendously since day one.
"It's been fun to watch them grow in their understanding and love of the sport. They now identify themselves as wrestlers which has been a welcome and exciting transition over the past year," said Gable. 
The girls hope to build this team and make a name for themselves as female wrestlers throughout their season and are excited to call this team their "family". 
The team officially started practices on Nov. 18. F and will have their first official competition on Sunday, Dec. 4 at Cumberland Valley.
For more information about girls wrestling, visit Sanction PA Website.
Leave a Comment
Your donation will support the student journalists of Dallastown Area High School. Your contribution will allow us to purchase equipment and cover our annual website hosting costs.