Lydia's Literary Loves – Little Women
The March sisters grow up and learn how to be little women, but not without plenty of troubles, heartache, and the inevitable romances.
Little Women. A timeless novel about four sisters growing up in Concord, Massachusetts amidst the American Civil War. 
This story was first published in 1868 by Louisa May Alcott, born to educated parents in Germantown, Pennsylvania.
Little Women is a semi-autobiographical account of Alcott's youth, with her and each of her three sisters immortalized forever as characters in the story.
Margaret is the oldest March sister, 16 when the book opens.
She goes by Meg and is considered the most beautiful of all four sisters and is a fabulous actress. She is often cast in the lead role in the plays she and her sisters perform. 
When the girl's mother is absent, caring for their father, an army chaplain who was wounded in the Civil War, Meg becomes the head of the household, behaving like a perfect little woman, but it was not always easy for her.
When the opportunity presented itself, Meg went off to a friend's luxurious ball, expecting to have a great time.
What she finds, however, is that the "rich" life is not all it is cracked up to be.
"Tomorrow I shall put away my 'fuss and feathers' and be desperately good again," she states at the conclusion of the extravagant weekend.
I love Meg because she is sacrifically willing to take on the role of mother, and to learn more about what it means to be the head of the household. Meg is the first of the sisters to get married and set up her home.
Next is Josephine "Jo" March, based on Louisa May Alcott herself. 
Jo, age 15 at the start of the book, is the tomboy of the family, always wanting to do "boyish" things like running and skating, and rejects most "girlish" things like formal dances, fancy dresses, and sitting prim and proper.
Her forte is writing. She writes the plays that the sisters perform, and takes it upon herself to write down their story, which, in theory, becomes Little Women.
"
I like good strong words that mean something"
— Jo March
Her bold style of writing was often not appreciated by the local newspapers, but she refused to dumb down her work.
"I like good strong words that mean something," she says. 
Jo is my favorite out of the sisters, and the one that I relate to the most. Like Jo, I am a writer, and I also have a tough-to-contain temper. In addition, I have a strong desire to be independent, and to "paddle my own canoe," as she passionately states.
At 13, the next youngest sister is Elizabeth "Beth" March.
Beth is kind, quiet, and honest, and is the most musical member of the family. 
As a teenager, Beth battled a bout with scarlet fever, which she recovered from, but which permanently weakened her health.  As a result, Beth spends most of her time playing with dolls, sewing or knitting items for neighborhood children, or playing her instrument, the piano.
Beth is also known as the peacemaker of the family, and also the most content.
"We've got Father and Mother, and each other," she states towards the beginning of the novel.
Beth holds a special place in my heart. Not only does she have a story unlike any of the other sisters, she is also musically talented, and is content to just stay at home and quietly live her life.
The youngest sister is Amy Curtis March.
At the start of the book, she is only 12 years old. She is the only sister to employ her full name, showing her desire to be independent.
Amy is a natural-born artist but is also the vainest and most self-centered March sister.
"I don't think it's fair for some girls to have plenty of pretty things, and other girls nothing at all," Amy states when she begins to realize that her classmates' families are better off than hers.
It is Amy's dream to be able to study art in Paris under the tutelage of a well-renowned artist, but because she is considered the baby of the family, nobody pays her or her ambitions much mind. 
Many people do not like Amy as a character, but I disagree with them. Amy has had to endure being the youngest in her family, and I can imagine how tough that must have been.
Amy was able to overcome her childhood to really make the most out of her life, and for that, I commend her.
The book opens with the four sisters hanging out in their living room, lamenting about not having the money to buy nice Christmas presents, and it takes off from there. 
"
I'm not afraid of storms, for I'm learning how to sail my ship."
— Amy March
Without giving away too much of the plot, throughout the novel, each of our heroines experiences love, loss, disappointment, and forgiveness.
Much of the book can be summed up in a single quote. "I'm not afraid of storms, for I'm learning how to sail my ship," Amy states.
Many of those storms have to do with another central character – Theodore "Laurie" Laurence, the grandson of the March's neighbor, old James Laurence.
As the novel progresses, Laurie develops a distinctive relationship with each of the March girls. That's all I'm going to say about that.
As with many books, Little Women has not only graced this world as a novel. 
Several film adaptations have been made over the years: Two black-and-white silent films were made in 1917 and 1918, and a black-and-white but sound adaptation in 1933 starring Katharine Hepburn as Jo.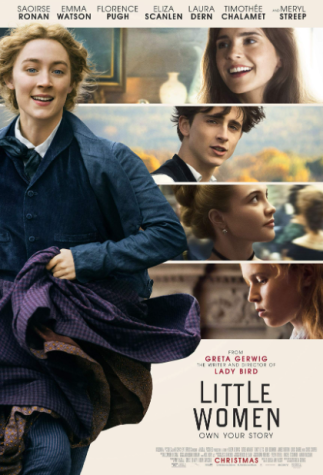 When color movies became popular, director Mervyn LeRoy made a color adaptation of the book starring June Allyson as Jo in 1949.
In 1994, Gillian Armstrong directed an adaptation of the novel starring Winona Ryder as Jo, and a 2018 adaptation marked the 150th anniversary of the novel's publication, starring Sarah Davenport as Jo. 
In 2019, writer and director Greta Gerwig took on the story. 
The film stars Saoirse Ronan as Jo, Emma Watson as Meg, Florence Pugh as Amy, Eliza Scanlen as Beth, and Timothee Chalamet as Laurie. 
The film received six Academy Award nominations, including Best Picture.
The 2019 adaptation of Little Women is the only one that I have seen, so I cannot compare it to another version, but I strongly recommend it to everyone – and I mean everyone. 
Even though the movie does revolve around 4 teenage girls, I believe that everyone can learn something from it. 
As briefly mentioned previously, the girls learn valuable lessons about forgiveness, compassion, appreciation, and family, which are lessons every human being should understand.
In short, whether you choose to meet the March girls through the novel, any one of the movies (I highly recommend the 2019 version), or both, you won't be disappointed with what you find.
Leave a Comment
Your donation will support the student journalists of Dallastown Area High School. Your contribution will allow us to purchase equipment and cover our annual website hosting costs.