With the End of an Era, Comes Success
With long time Head Coach Jeri Myers retiring after this season, the team ended this era with success and many accomplishments.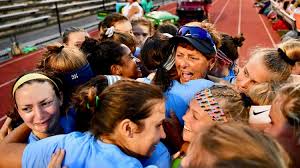 Most people would see the end of an almost 40-year coaching career to be the final chapter, a bittersweet ending marking the end of an era.
But the 2018 field hockey season was filled with exceptional games and even better accomplishments to make this final season one to remember.
Led by seniors Piper Glattacker, Nylani Powell, and Madison Strayer, the team finished with an 11-3 league record.
"The season overall was better than last years, which is what we wanted… I could not be more happy with our performance," Glattacker said.
One of many memorable moments from the season was longtime coach Jeri Myers receiving her 500th career win in a game against Dover.
The team wore matching t-shirts and celebrated Myers' success throughout the years.
Each game represented how hard the team practiced throughout the season and their postseason, which continued to the first round of districts.
Along with the hard work, there were many special memories Coach Myers and the graduating seniors will always remember.
Among them, the most notable are apple crisps and chuck the chicken.
The girls play chuck the chicken before the Red Lion game each year. They are split into eight teams by the senior captains and the winners of this tournament-like event are the first to receive apple crisps and ice cream. "It's like flag football," Glattacker said.
The seniors and Coach Myers would surely agree that this season was a remarkable end to their careers, but for the returning underclassmen, the future of Dallastown field hockey is in their hands… and their sticks.