Shaking up York's guitar scene, Noel's Rock Shop is the newest shop in town offering many great guitars and it's run by the much-loved Dallastown maths teacher, Mr. Gottloeb.
Partnering with his long-time friend from college, Scott Youcheff, Gottloeb opened up a guitar shop at 27 E King Street York, PA.
It is open Thursday and Friday 6 to 8 p.m. and Saturday and Sunday 12 to 4 p.m. 
Noel's Rock Shop sells used guitars, basses, and pedals along with many accessories including cords, picks, and strings. Gottloeb much prefers to buy and sell used equipment, wanting to help the environment.
"Our goal is to keep equipment out of landfills, and over the years I've amassed quite a bit of the accessories that go with playing, hence the used option."
Worried about the commitment of owning a store, Gottloeb held back from the idea for a very long time.
"I have avoided starting a guitar store for the last fifteen years because I didn't want the commitment. However, Scott had the urge to try a different career and I sold my house, so I needed somewhere to put the guitars in my basement."
After he and Youcheff got together on the idea, they were open in less than three months. This is thanks to Gottloeb knowing what a startup needs.
"Money and inventory are the two main needs for a start-up and I had both, which made the process happen extremely quickly."
This odd inventory is exactly what Gottloeb believes makes their store so unique.
"Our store has unique inventory – many items I modified or repaired while others are complete custom builds. I enjoy seeing others find value in my creativity."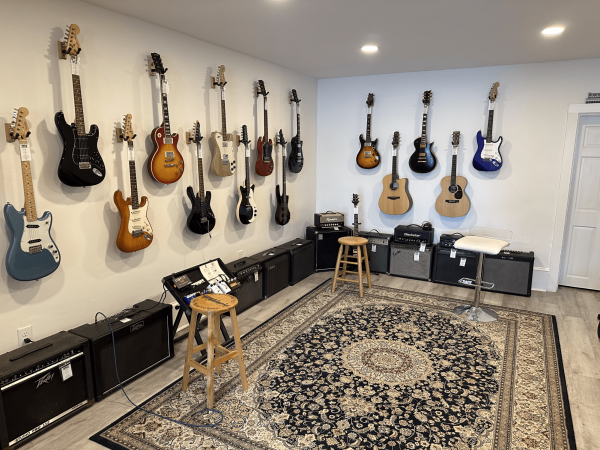 They decided to name it "Noel's Rock Shop" after Youcheff's grandfather's gemstone store that was in York during the early 1900s, giving a double meaning to the shop's name.
As soon as Gottloeb started playing guitar, over 26 years ago, he was buying and repairing used broken gear as new equipment was too expensive for him to purchase.
His success in repair and lucrativeness of selling meant he started selling all his excess. 
"While they were supposed to be for me, I found it way more lucrative to sell them back to other musicians. This began what I called 'Open Arms Instruments', which was my guerilla guitar business that operated out of my dining room/van."
Nowadays, he does repairs in his store. His main business though, is trade-ins.
"Usually people don't have quite enough money to buy something or need to make room for a new purchase – sometimes they just have gear that doesn't get used enough. Those are the ideal situations, because then we find a new home for these items."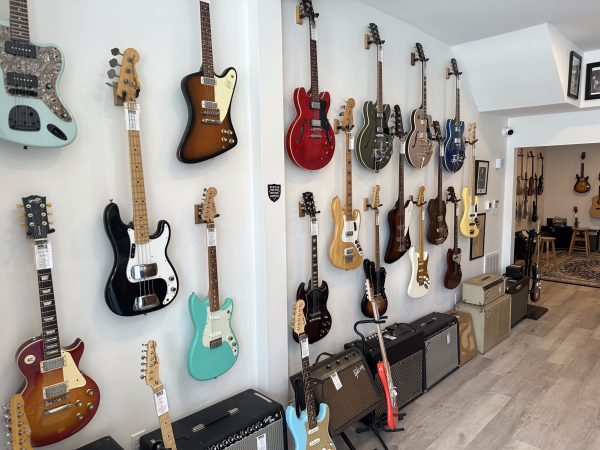 Gottloeb and the students here are excited about the store being opened. He most enjoys how enthusiastic everyone is about the business.
"I'm excited that other people are excited. I've had former students stop in, current students swing by, and even people I haven't seen in years walk in unexpectedly. It's nice to have a place downtown to shop for guitars and I'm glad to provide such a destination." 
Abram Finkelstein, a student at Dallastown and former student of Gottloeb's is impressed. 
"I find it quite impressive how Mr Gottloeb is able to maintain being a good teacher while managing a small business on the side."
Another student who enjoys Gottloebs teaching and now his business too is Amana Maniar. 
"It's very cool; I love Mr Gottloeb and his guitars."
Even though everyone loves it, there are also some struggles that Gottloeb and  Youcheff have with owning their own business. The biggest of which is definitely advertising.
"The biggest challenge is getting the word out. Scott handles our online presence and I've purchased advertising through WXPN and The Appell Center. I have to remind myself constantly we are new and things don't explode overnight."
On a more personal level, Gottloeb also finds it difficult having his tools not at his home. This negative has ended up having the benefit of making him spend more time playing.
Overall, he feels it is important to know his product and stay dedicated to his store. Even with his dedication to running the shop, he has even more dedication towards teaching and would never give that up even if he had the opportunity to.
"I enjoy teaching too much. Repairing/selling guitars is all-consuming; I view teaching Maths as my hobby that gets me away from my workbench. I'd go crazy if I had to repair/sell guitars all the time. It's way less fun than being at school."