From a quiet movie in a row of seats to a filling environment of singing and dancing, the Taylor Swift: Eras Tour film took over theaters during its debut. 
Starting Oct. 13,  fans got a front and center view of Swift in action during one of her concerts. The film marketed around $96 million during opening weekend and $26 million on the first day of presale, making it the biggest concert film ever. 
For some, it was a chance to see a concert they were never able to experience.
"I could not get tickets to the Eras Tour concert, (but) this was a great alternative if you didn't/couldn't see the concert! Taylor is exemplary at showing emotion and passion with her music when you see/hear her live," Senora Pomraning mentioned.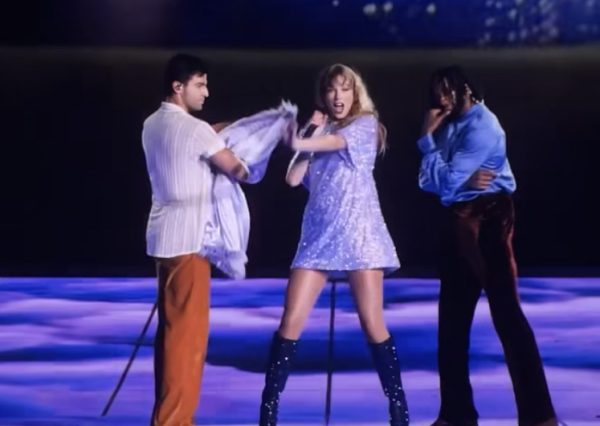 For lucky others, it was a chance to relive one of the best nights of their lives.
"The movie was a 10/10 must see, but nothing can compare to that concert! It was seriously the most incredible night of my life," senior Ella Poff stated excitedly. 
Swift's much anticipated concert tour contains 151 dates across five continents with an average of 72,000 people in the audience each night and the numbers just keep expanding. 
From the beginning, getting tickets was not an easy process. 
With Taylor Swift tickets being sold by many vendors, the demand became immensely high, causing many fans not being able to receive a ticket.
Ticketmaster was even sued by many fans due to the amount of people the website allowed in. 
Statistics show that the site was only supposed to let in 1.5 million fans into the pre-sale. Instead, Ticketmaster let in around 14 million people, almost enough to fill 900 stadiums. 
"When I got the email, I didn't get access to the pre-sale link and I didn't know why. Turns out, l was like one of the only people that they regulated from the pre-sale link," added senior Emma Howard.
Even when Ticketmaster was fixed, the prices for Taylor Swift tickets went up, leaving many young fans devastated.
During the tour, fans had no idea of the upcoming film until Swift's LA shows, where more camara crew were surrounding the stage during the three nights, which led to a major suspicion for the Swiftie community. 
For months, Swift kept on going on with her tour. 
As she knew all of her fans weren't able to experience the magical night, Swift decided to turn her concert into a film for all her Swifties to see. 
On August 31, Swift announced to her 276M followers on Instagram of the new film hitting theaters.
Fans started their pre-sales immediately after hearing about the post. 
As the film's premiere moved closer and closer, ticket websites became slow, even the lines for ordering went up to an hour. 
When it came to opening-weekend, the theaters became all things "Swiftite," including ticket prices. 
The normal ticket price was $19.89, which represented Swift's birth year and was an easter egg for her upcoming re-recording, 1989 Taylor's Version. Many concession stands even sold reusable popcorn buckets and cups with the Eras Tour logo for $19.89 as well.   
Although nothing could compare to the magic behind seeing Taylor in pe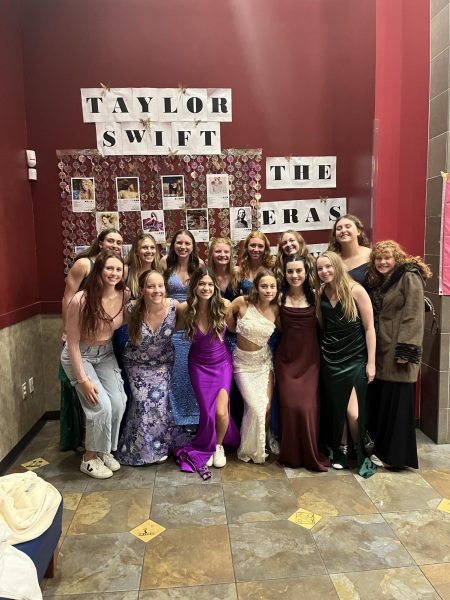 rson, the movie was shown as a "great substitute" for those who weren't able to go. 
Poff, who was able to experience the concert as well as the film stated, "the movie was also a great experience because you could really analyze the choreography and see all of the details of the show which was amazing!" 
The film did leave a few songs out, including The Archer (Lover set), Wildest Dreams (1989), Long Live (Speak now), Cardigan (Folklore), and Tis the Damn Season (Evermore). 
For Swiftie fans that didn't matter. Fans were still able to dress up in costume and wear their Taylor Swift shirts as well as trading many friendship bracelets throughout the movie. 
"The most exciting part of the movie was dancing and screaming the songs with my friends. I've never been that loud in a movie theater with my friends, nonetheless a bunch of strangers," remarked senior Katie Chronister.  
From the love of her fans, the film has produced about $150 million in total and is set to break $200 million as time goes on. The film has even been extended to two more weeks in theaters before streaming on tv platforms.
Swift now has the highest grossing tour ever by a woman and is predicted to make 4 billion dollars. Her return back to the U.S has been set for Oct. 18, 2024 and is set to break more records as the tour continues.