Dallastown Art Reaches New Heights in Atlanta
Class of 1996 graduate Michelle (Fabie) Ma has taken her love of art and turned it into a highly successful career.
It's not uncommon for students to finish their high school careers and have no clue which direction to go. For some, the opportunities are endless and their future seems pretty clear.
The second was true for Dallastown grad Michelle (Fabie) Ma, who makes a living doing what she loves most-getting to be creative.
Ma graduated in 1996 and attended Savannah College of Art and Design, where she engaged in many classes, some of her favorites being Penciling and Inking and Scripting for Comics. 
"I really liked my professors and my major a lot. I was one of the few girls, probably one of four, in sequential art at the time," Ma said. 
Her creative abilities have captured the attention of her teachers, one of them being middle school art teacher Ms. Baum.
"I remember she was always open to trying new techniques and she was up for the challenges of all the Art Major Projects. She worked very diligently in class and always turned in outstanding work," Baum recalled.
Now she works in Atlanta at Turner Sports with Warner Media News and Sports as a Motion and Print Designer. She's been in her current position for five years and is very happy with the atmosphere and people that surround her.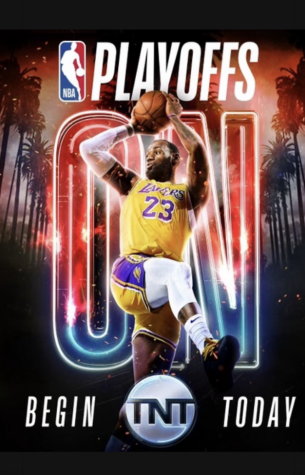 Ma's job is rewarding, yet time-consuming. She works anywhere from 40 to 90 hours a week and her average workday fluctuates as well. Currently, she is working on motion test graphics for the NBA All-Star Game, which have the potential to be broadcasted on TV.
From a young age, Ma has gravitated towards art and was inspired to take it a step further doing something many people did as kids.
"I loved Disney, Warner Brothers, and superhero cartoons growing up. Those are the things that drove me to where I'm at today believe it or not because if it wouldn't have been for my start in animation, I wouldn't be where I'm at in sports. Everything kind of connected along the way," Ma explained.
Her specific position is a direct reflection of her interest in sports and animation. She also experiments with many styles of art but is drawn to artistic cinematic looks and TV post-credit and title scenes.
With lots of projects and demanding deadlines that are similar to those students are given in school, Ma uses a variety of techniques to overcome difficulties and challenges.
"I try to gear the project that I'm working on towards something that might interest me, because if you can bend it towards something that you like you'll enjoy working on it better," Ma claimed. 
Inspiration and motivation for her work come from movies and their scenes, posters, and credits. She's also inspired by her husband, who works in the same field and has three Emmy Awards under his name.
Ma holds an impressive amount of achievements as well. From designing Carter's clothes for young children-which her daughter now wears-to drawing caricatures and attending photoshoots with figures like Charles Barkley, her job isn't any ordinary one.
On top of this, she has worked under other companies like Radical Access and Harvey Birdman, Attorney at Law. Her hopes for the future are just as promising as the past.
"My future aspirations are to eventually create a kids book down the road, or possibly switch gears and work for Marvel since they're down here in Atlanta now," Ma mentioned.
Ma's accomplishments trace back to her childhood interests and teachers like Baum, both of which have fueled her love of art.
"I am very happy to hear that she is a successful artist. It is great to hear about another successful Dallastown alumni," Baum expressed.
Ma's experiences within her career are perfect examples of how a career is not defined by its title, but rather by the opportunities of growth, success, and enjoyment it offers to an individual.