Spotlight On…Mental Health Awareness Club
MHAC works together to promote a culture of caring and happy individuals at Dallastown.
The month of May is not only dedicated to Mental Health Awareness Month, but it also highlights the importance of one of DHS's clubs. After seven years of creating a safe environment for students, the Mental Health Awareness Club (MHAC) still strives for students to obtain a happy lifestyle.
MHAC started around 2014 after Mr. Probert and Mrs. Nobile attended a workshop on Aevidum. Aevidum means "I've got your back" and its goal is to create a positive culture in schools.
"When I attended the workshop in 2014, I knew it was something I wanted to be a part of.  At the time I was in the classroom and I saw the struggles that some of my students faced on a daily basis, I knew that it was needed at Dallastown and we could make an impact." Nobile said. 
At the time, this type of club was rapidly growing in Lancaster County Schools. That was part of the reason why staff members wanted to bring it to Dallastown. Over the years, the Dallastown Club has had several name changes but the mission behind the club has always remained the same.
The mission of MHAC is to provide an environment that promotes establishing a caring school culture, a healthy lifestyle, and mental health awareness through student collaboration and community education.  The vision is to create a culture of caring that promotes physical, mental, and emotional well-being for living a happy, healthy life.
The 3 advisors of the club are Mrs. Nobile, Mrs. Guttridge, and Miss Long. Mrs. Nobile became the advisor in 2014, and both Mrs. Guttridge and Miss Long became advisors a few years after the club was formed.
"
"All of our club members are passionate about mental health. I think it is so important to create a positive environment for students and I enjoy working with the club members to make this happen!""
— Mrs. Guttridge
"I was excited to get involved with the club in order to promote mental health awareness. I enjoy working with students and participating in the activities they plan for the high school." Long said. 
During a normal school year, about 25-30 students are involved in the club.  Since this year was a challenge for everyone, there were around 10 students that participated.
MHAC meets one day per cycle during Wildcat period.  During that time, the advisors and members of the club plan activities for each month to promote positive mental health throughout the school. They try to boost morale and create positive experiences for students within DHS. 
The first Monday of each month is called a "Mental Health Monday" where the club holds a special event. The events can range anywhere from placing positive quotes on desks and on the mirrors in the bathroom, to writing positive messages with chalk on the sidewalks outside of the school. 
While students may have seen those events around the school, the club has also done events like hosting yoga sessions, had service dogs visits, sold candy grams on Valentine's Day, and even created a positive tree where students could take a positive note with candy and leave a new note for a student.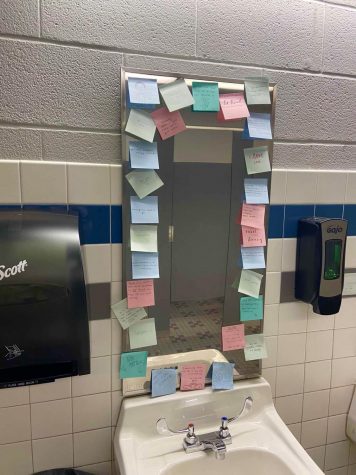 All three advisors are very involved in the club, and all have been able to work with students in a different capacity than in the roles the students know them in. While they enjoy working with the students and helping them bring their ideas to life, it's created unforgettable experiences for them. 
"Being an advisor has allowed me to meet new students.  It also has shown me how committed a lot of our student body is to making school a happy place by working to relieve burdens many students feel on a regular basis (from stress about schoolwork to difficulty with student-to-student relationships)." Guttridge said. 
No matter what someone is going through or how somebody feels, the Mental Health Awareness Club is always looking for new members. Anyone is welcome!
Leave a Comment
Your donation will support the student journalists of Dallastown Area High School. Your contribution will allow us to purchase equipment and cover our annual website hosting costs.