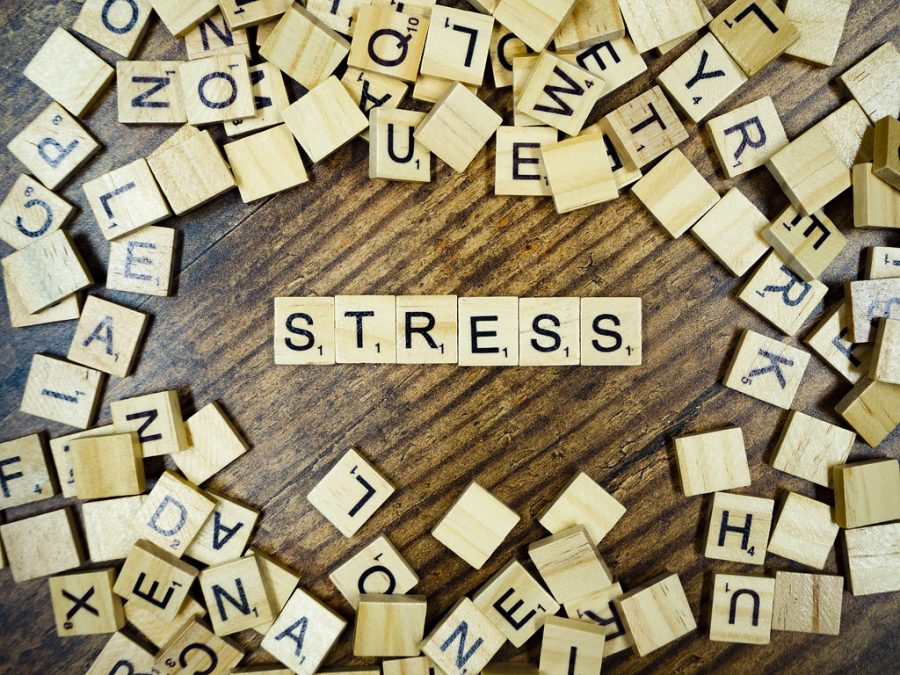 Photo via Flickr under Creative Commons License
May Is For Mental Health Awareness
June 7, 2021
Marvelous May. Flowers start blooming, birds chirping, weather warming, school ending, students stressing. Wait. That's not how it's supposed to go. However, for most students it does.
May is an extremely busy time of year for many students. With standardized testing, school wrapping up, and motivation dwindling, many students find themselves stressed about all they have on their plate.   
May also happens to be Mental Health Awareness Month. During this time, many companies and organizations try to raise awareness about the topic and break the stigma surrounding it, including DHS.
Mental health awareness isn't something that should be highlighted only one month out of the year. So even with the calendar reading June, mental health should still be a top priority.
Stress Scope High, Know How to Cope
Everybody responds to stress differently and before knowing how to combat stress and anxiety/depression, it is important to understand what causes stress and how it impacts your body. 
Blake Colaianne is a former Dallastown science teacher, but left the profession to study mindfulness and stress, and is currently a human development professor at Penn State University.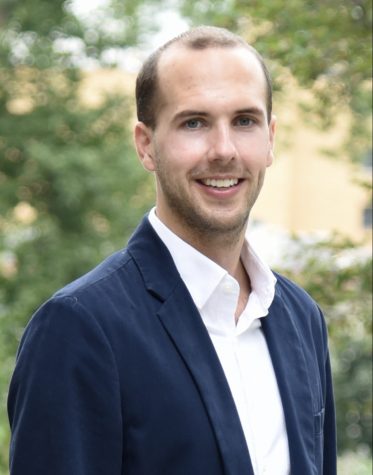 It is crucial however to note that everyone has their own definition of stress and how they are impacted by it. 
"Understanding our stress patterns is important to knowing how to cope. What causes your stress? What does the stress feel like?," Colaianne mentioned. 
When your body faces stress there are three ways your body might react: fight, flight, or freeze.
"Some of us are more 'fighters' who go after difficulties when they happen, some of us are 'flighters' who would rather move away from the difficulty, some of our 'freezers' who just sort of tense up during a difficult moment," Colaianne explained.
Because he was once a teacher, Colaianne notices the stress that is put on students, and the stress students put on themselves. 
"We've created a high-achieving culture. It's exhausting for students. Our culture has trained students to equate being successful to having "more" of something. More A's, more AP courses, more extracurricular activities," Colaianne said. 
Students need to find ways to balance their lives. Personal, educational, extracurriculars, and actively. Colaianne has some great advice for all students to hear. 
"I would say to students: Be rebellious. Ditch the status quo. Choose sleep. Choose genuine social connection. Rest more," Colaianne remarked.
Colaianne is not encouraging complacency, however, he does want society to care more deeply about how they themselves feel, and also how others feel. 
"If you are passionate about a subject, then take every course you can about that topic, maybe even the Honors and AP versions. But if you're taking extra AP classes or being part of extra activities just to get "more" or to somehow move faster through life – that is not what the world wants of you. And it's definitely not what the world needs," Colaianne noted.
It is important for students to remember that they are not sworn to secrecy about stress and that the things they are going through could be the same as those around them.
Stress can also significantly affect one's physical, mental, and emotional health.
"Stress often means constriction and tightness. Physically, this can mean actual tension in your back, shoulders, head. Emotionally, this can mean wanting things to be different than the way they currently are – a tightness around wanting control. Our bodies and minds aren't meant to be in a constant state of constriction," Colaianne explained.
This state of constriction is using up our energy which leaves us feeling tired and seemingly depleted. 
"We're the healthiest when we're in a state of openness, relaxation, ease. Our body's energy is now free to be used on important processes like our immune system, our digestion, even our cognition, and imagination. We can think more clearly, and we can show up more fully," Colaianne stated. 
Colaianne doesn't just know what stress is and its impact, he studied mindfulness; a great way to slow yourself down.
"Mindfulness is simply awareness and curiosity, and it is directed inward and outward. Inward mindfulness might be that you recognize how angry you are about something, and you pause and become really curious about that anger rather than acting on it," Colaianne voiced.
Mindfulness isn't the only way to combat stress, but it's a good starting point.
"You can't heal what you can't notice. So, a good first step of coping is simply awareness and curiosity, and that's why mindfulness is such a good first step. Even pausing to take three, long deep breaths is enough to signal to our bodies that there isn't a need to feel really stressed in this moment," Colaianne commented.
This brings back the point of the importance of communication and telling others how you feel. Chances are, you're not alone.
"It's important to remember the role of other people in all of this. We often use the phrase 'self-care' or 'self-help,' which implies that you need to be doing this alone, which is far from the truth. We need community to heal. Our nervous systems were built to be around others, and we often need others' help to reduce stress," Colaianne finished with.
"
We compare, and then we despair."
— Blake Colaianne
Dallastown High School physical education and health teacher Nicole Boyce weighs in on the many ways to combat stress. 
"Everyone faces stress in their life and that is something we can't change or avoid. But we can change and focus on how we deal with stress," Boyce said. 
It is also notable that every person has their own way of coping and what works for someone, may not work for everyone. 
"Some healthy ways to cope with stress include physical activity, listening to music, drawing, coloring, reading, spending time with friends, and the list goes on," Boyce listed.
Those are only a few ideas of ways to cope with stress, as there are many more. Boyce also noted that some of her favorite coping mechanisms include physical activities (walking most of the time), baking, and drawing.
"If someone is dealing with stress and does not cope with it in a healthy way, it could lead to a mental illness. Many times, unhealthy stress leads to depression and/or anxiety," Boyce added. 
These effects are such a critical reminder of why it is important to reach out to someone and find healthy ways to deal with stress.
"We all deal with stress and it is something that cannot be avoided. Stress can be a good thing, but it can always be overwhelming," Boyce mentioned.
An unhealthy amount of stress can cause other issues rather than just those mental health-related. 
"They [stress and depression] can cause you to become physically ill or not get enough sleep, they can lead to mental illnesses or decreased self-esteem, and they can lead to isolation and loneliness," Boyce stated.
Stress is not always a bad thing. In fact, stress is healthy in moderation. However, a large amount of stress is unhealthy and it is necessary for everyone to find coping mechanisms that work for them.
Schools and local community centers are always available to talk with to find ways to cope that work for you. Figuring out what coping mechanisms work best for you, will help you become more successful and healthier.
In fact, there is a Mental Health Awareness Club and many resources here at Dallastown that are always available to help. 
Leave a Comment
Spotlight On…Mental Health Awareness Club
The month of May is not only dedicated to Mental Health Awareness Month, but it also highlights the importance of one of DHS's clubs. After seven years of creating a safe environment for students, the Mental Health Awareness Club (MHAC) still strives for students to obtain a happy lifestyle.
MHAC started around 2014 after Mr. Probert and Mrs. Nobile attended a workshop on Aevidum. Aevidum means "I've got your back" and its goal is to create a positive culture in schools.
"When I attended the workshop in 2014, I knew it was something I wanted to be a part of.  At the time I was in the classroom and I saw the struggles that some of my students faced on a daily basis, I knew that it was needed at Dallastown and we could make an impact." Nobile said. 
At the time, this type of club was rapidly growing in Lancaster County Schools. That was part of the reason why staff members wanted to bring it to Dallastown. Over the years, the Dallastown Club has had several name changes but the mission behind the club has always remained the same.
The mission of MHAC is to provide an environment that promotes establishing a caring school culture, a healthy lifestyle, and mental health awareness through student collaboration and community education.  The vision is to create a culture of caring that promotes physical, mental, and emotional well-being for living a happy, healthy life.
The 3 advisors of the club are Mrs. Nobile, Mrs. Guttridge, and Miss Long. Mrs. Nobile became the advisor in 2014, and both Mrs. Guttridge and Miss Long became advisors a few years after the club was formed.
"
"All of our club members are passionate about mental health. I think it is so important to create a positive environment for students and I enjoy working with the club members to make this happen!""
— Mrs. Guttridge
"I was excited to get involved with the club in order to promote mental health awareness. I enjoy working with students and participating in the activities they plan for the high school." Long said. 
During a normal school year, about 25-30 students are involved in the club.  Since this year was a challenge for everyone, there were around 10 students that participated.
MHAC meets one day per cycle during Wildcat period.  During that time, the advisors and members of the club plan activities for each month to promote positive mental health throughout the school. They try to boost morale and create positive experiences for students within DHS. 
The first Monday of each month is called a "Mental Health Monday" where the club holds a special event. The events can range anywhere from placing positive quotes on desks and on the mirrors in the bathroom, to writing positive messages with chalk on the sidewalks outside of the school. 
While students may have seen those events around the school, the club has also done events like hosting yoga sessions, had service dogs visits, sold candy grams on Valentine's Day, and even created a positive tree where students could take a positive note with candy and leave a new note for a student.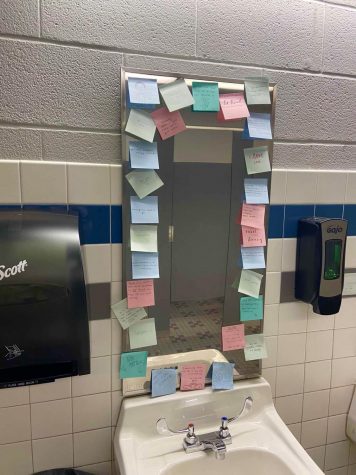 All three advisors are very involved in the club, and all have been able to work with students in a different capacity than in the roles the students know them in. While they enjoy working with the students and helping them bring their ideas to life, it's created unforgettable experiences for them. 
"Being an advisor has allowed me to meet new students.  It also has shown me how committed a lot of our student body is to making school a happy place by working to relieve burdens many students feel on a regular basis (from stress about schoolwork to difficulty with student-to-student relationships)." Guttridge said. 
No matter what someone is going through or how somebody feels, the Mental Health Awareness Club is always looking for new members. Anyone is welcome!
Leave a Comment