Golf Goes for Gold
The Wildcat co-ed golf team piled up both individual and team championships this fall.
Dallastown has always had a strong and competitive golf team, but this season proved to be record breaking. 
After winning a YAIAA league title, their first District III team title, and a fifth-place team finish at states, the Dallastown Golf season has come to a close. 
"
The team is very close and we all push ourselves to be the best people not only on the golf course but as friends, too.
— Bobby Nicholson
The team, made up of senior Makensy Knaub, junior Bobby Nicholson, sophomores Lane Krosse and Taylor Hicks, and freshmen Reed Krosse and Mason Tucker,  breezed through regular season play with a 36-0 record, but really excelled in postseason. 
The Wildcats participated in the county tournament on Tuesday, Sept. 28, and ultimately walked away with the York-Adams golf crown.
Nicholson shot a 69, three under par, with L. Krosse and R. Krosse shooting 70s, followed by Knaub shooting a 71. 
These four held the top scores of the day, and all shot under par Briarwood golf course's par-72. Altogether the team scored a 280, setting a league all-time record. 
The team's great turnout at the county tournament secured them a chance at the district tournament.  
Despite the unfamiliar course, the Wildcats persevered and took home the district title with a team score of 298, 6 shots less than second place Lampeter-Strasburg. 
This was the team's first-ever district crown.
Their previous successes gave them hope and confidence walking in the state tournament, especially because it was held at Heritage Hills Golf course, a very familiar course for the team. 
Although it wasn't the turnout they had expected, the team finished in fifth place at the PIAA tournament. 
"I was pretty disappointed with how we played. I know our expectations were to play better, but ultimately, we didn't perform the way we wanted to," Knaub said.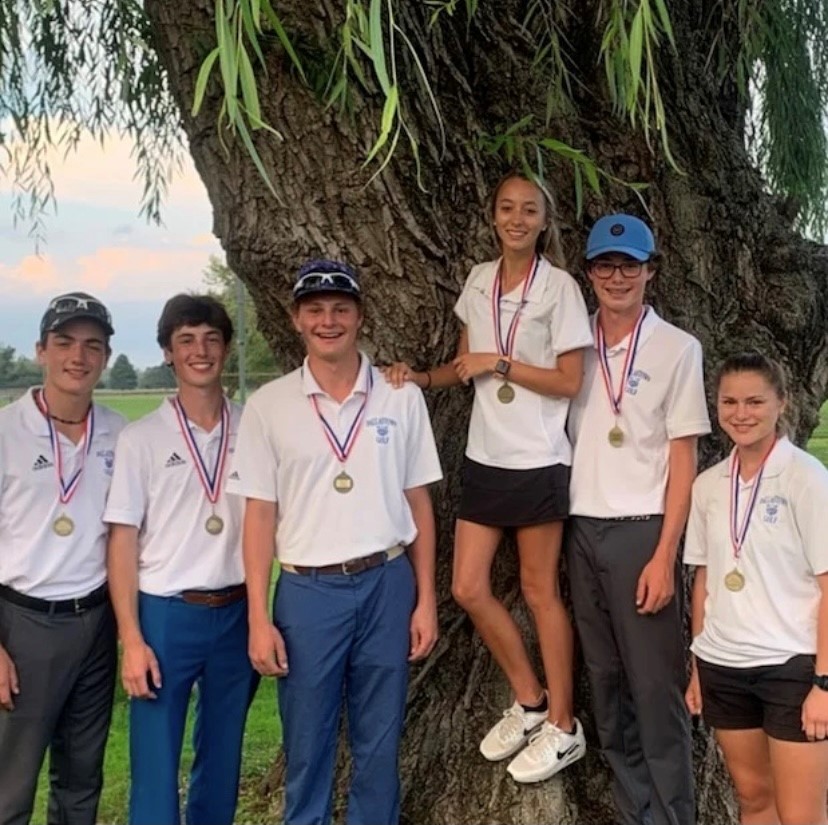 However, she knows that the young team will only grow in strength and skill over the next year, and has high hopes for her fellow teammates.
 "I wish them all the best of luck, and I know they will succeed and get better and the years go on."
In addition to team success, this was also a notable year individually for the team with Knaub leading the way, earning her second District III Championship.   
Knaub has grown up on the golf course due to her father and his own golf career.
Her dad, Brandon Knaub, Dallastown Class of 2000, excelled in the sport just like his daughter, with a 2nd place finish at states in 1999. He even went on to play in the minor leagues for many years.
Despite her time spent on the course as a young child, Knaub did not actually pick up the sport until a little later. 
"Kensy grew up playing various sports and picked up golf a little later in her childhood than some would think," her dad said.  
Starting golf competitively at the age of 12, and playing all four years of her high school career, Knaub, the only senior, will be a great loss to the team.
"Kensy has worked her tail off over the last four years and her results really improved each year…her results [this year] were impressive and well deserved," Brandon Knaub said. 
This proves to be very true as she ends her Dallastown Golf career with 3 league titles and 2 district crowns. Those of which she will carry with her to play Division 1 golf at Mount Saint Mary's University next fall.  
Despite losing one of their key players, the team is hopeful walking into next season.
"Even with [Ma]Kensy graduating, we feel that through hard work and practice we can continue to do well in competition." says Nicholson.  
The future looks bright for the Wildcats with R. Krosse, who placed third at the district tournament and was selected for the Division I All-Star team along with his brother L. Krosse and Knaub, and Taylor Hicks, who placed ninth at districts this season. 
Nicholson looks forward to continuing the strong and competitive history of Dallastown golf, and says its more than just about the play. 
"The team is very close and we all push ourselves to be the best people not only on the golf course but as friends, too."