Dallastown In Space
Dallastown graduate Michael McElwain is soaring as a Senior Research Astrophysicist for NASA, and is a critical contributor to the James Webb Space Telescope.
December 25, 2021. While most people were celebrating the warmth and excitement of Christmas, a team of dedicated NASA employees launched the most powerful telescope ever created into space.
Leading the launch as the James Webb Space Telescope Observatory Project Scientist was Dallastown Class of 1997 graduate Michael McElwain.
McElwain is a Senior Research Astrophysicist at NASA's Goddard Space Flight Center. Before NASA, he attended the University of Pennsylvania as a physics major and earned his Ph.D. in astrophysics from UCLA. He also carried out an independent research program as a postdoctoral researcher at Princeton University.
Despite his experiences and accomplishments, McElwain didn't consider science as a career path during his time at Dallastown. 
"I did not know any professional scientists when I was growing up in York, so I did not even consider science as a career path," McElwain mentioned.
His perspective changed during his time at Penn, when his undergraduate mentor and honors physics professor Fay Ajzenberg-Selove encouraged him to carry out summer research and ultimately pursue a career as a professional scientist.
In terms of the James Webb Space Telescope, McElwain is responsible for overseeing the technical development of the observatory, including the telescope, sunshield, and spacecraft.
"During the final integration and testing phase, I was the lead on the science verification that led to the launch itself. I will also be leading the science component of the post-launch assessment review," McElwain described.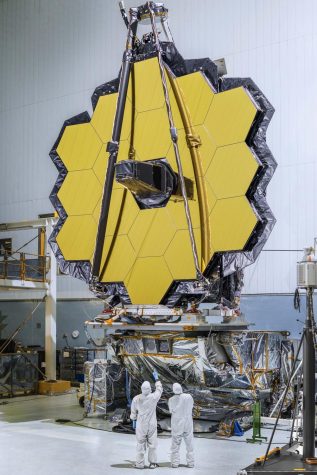 His work extends beyond the U.S. also, as he frequently works with international partners such as the European Space Agency and the Canadian Space Agency and aerospace contractors such as Northrop Grumman, Ball Aerospace, and L3 Harris Technologies. 
"On a daily basis, I'm working with scientists and engineers across the globe to make Webb a success," McElwain explained.
The Webb Telescope operates 24/7, keeping McElwain busy from around 6 a.m. to 6 p.m on a typical workday. 
The time-consuming and tedious work hours do not stop McElwain from forging discoveries and making the most of his career. Focusing on his favorite parts of his position makes his less favorable tasks-like governmental paperwork-more bearable.
"I really enjoy working with teams and building instruments, using data analysis, or doing experiments. I also enjoy public speaking and sharing results with my colleagues and the broader public," McElwain recalled. 
His schedule doesn't end with work, as he balances his professional commitments with being a father of two girls. 
"My wife, Crystal Simpson, and I are blessed with two daughters – Catherine and Lilly. It is a compromise when balancing work and personal life. We have a nanny that supports us and helps take care of our children if we need to be at work."
Before his professional family life, McElwain was involved both academically and athletically during his years at Dallastown.
"
My fondest memory is playing on the Dallastown Men's Soccer State Semi-Finalist team. In the classroom, I enjoyed the physics classes and in particular the laboratory experiments.
— Michael McElwain
Dallastown science teacher Mark Ilyes had McElwain for AP Physics his senior year and remembers him as one of many capable AP Physics students who graduate from DAHS every year. 
"Michael was highly motivated and very focused on making sure that he understood what we were discussing in class. He certainly had a high level of natural ability, but I really believe that it was his persistent work ethic, always pushing himself to be his absolute best, that resulted in his high level of achievement in his career," Ilyes explained.
Through his passion for developing new technologies, contributing to scientific discoveries, and ensuring continued success for the James Webb Space Telescope, McElwain is shooting for the stars-and is not stopping now. 
"I have been working on new technologies that would enable us to take spectra of Earth-like planets in orbit around nearby stars. It's quite possible those technologies will be used to find life in the universe within my lifetime, or at least to set the stage for those observations in the future," said McElwain.