Goodbye to a dirty May and hello to a muddy fall. Down and Dirty is ready to roll this September.
Last year's Down and Dirty was held during the final weeks of school and are now hoping that the new change will bring more students, teachers, and administration to the upcoming fall event. 
"There used to be a fall event that was through our foundation like a fall fest in September that doesn't exist anymore and if you do it in September it can be reinvigorated with kids being back again and gives them the fall event that doesn't exist anymore," stated Supervisor of Secondary Programs and Services, William Probert.
Down and Dirty is a competitive event that involves wet and muddy activities that have included relay races, Slip 'N Slide, and mud pits. It is a fun day for students to share with friends.
Down and Dirty was started in 2008 by Dallastown teacher Mrs. McKinney to raise money for Cystic Fibrosis. When McKinney retired in 2018, the event stopped for four years, making a return in 2022 with funds now benefitting CAT Packs.
"CAT Packs is a weekly program that sends a grocery bag full of food to students who, maybe, struggle with food and security on the weekends to ensure they have supplemental food. We serve grades 4-12 as well as Dallastown Elementary," CAT Packs Treasurer Heather Lee says.
On Sept. 23, Down and Dirty will have three-time sessions. The first one will start at 9 a.m., the second at 10:35 a.m., and the last at 12:10 p.m. 
There will be 12 activities at each session where teams of five will face head-to-head to see which team will come out on top.
"You'll participate in many competitions and really compete, teams will compete against each other, so you'll see some student teams, teacher teams, administrators teams you know they're competing against you to have that Dallastown flair," Probert stated.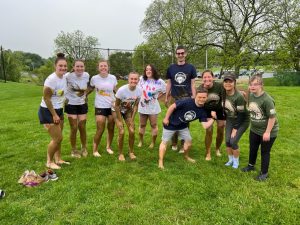 Along with the fun, teams will be able to dress up in costumes and try to earn the 'best costume' for their assigned time slot.
Senior Ella Poff even said, "I loved getting dressed up with my friends and doing the activities. We had so much fun planning our outfits."
CAT Packs are also looking for more volunteers to help with this year's event. 
"As far as volunteers we really really really need adult volunteers and limited student volunteers and if you volunteer you get priority for registration so like if you volunteer and you really want team 1 then we'll make sure you are in team 1 because you're volunteering for us"
As Down and Dirty is one week away, the time is now to sign up to support CAT Packs and have fun with your friends. 
For more information contact: [email protected] or [email protected]