Wrestlers Look for Sweet Success at PIAA States in Hershey
After winning the YAIAA and placing second in District III as a team, individual Wildcats make their mark on the postseason.
Wrestling is a unique sport: part team and part individual. Athletes are out on the mat alone to face opponents, but in regular season dual meets, their individual matches affect the team score.
Even if an individual wrestler loses his own match, the team can still win. However, in tournaments and individual postseason, the wrestlers are on their own.
The 2018-19 Dallastown Wrestling team has proven to be successful in both team and individual competition this year. 
The list of accomplishments is impressive.
The Wildcats won the YAIAA championship outright for the first time since 2007. They finished second in the District III AAA Team Championship, losing to Cedar Cliff 39-28 in the championship match.
Ten of the starting 14 wrestlers placed in the top 4 at the Sectional Tournament and qualified for individual districts.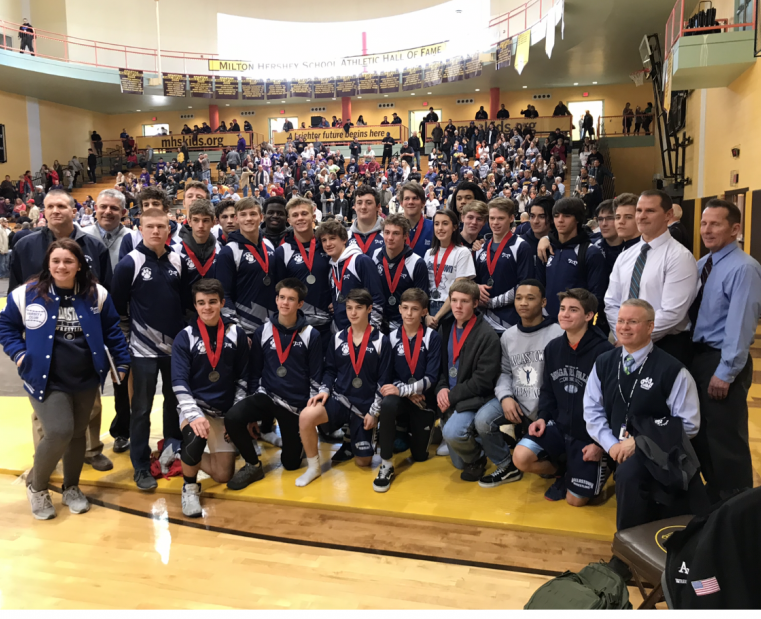 At the District III tournament, four Wildcats placed in the top 4 of their weight class and qualified for the PIAA  State Championships. Among the qualifiers were sophomore Brooks Gable who placed 4th at 138, senior John Ligon who placed 4th at 160, senior Raymond Christas placed 2nd at 285, and senior Jamal Brandon was the 220 pound champion.
"Individual districts for me was wild. I wasn't even supposed to attend districts based on my seeding at sectionals but had a lot of upsets and ended up getting second in sectionals which was a great tournament," sophomore Brooks Gable said, "when districts came I felt like I was an underdog and that caused me to feel like I had nothing to lose which was a good feeling."
Seniors Cael Turnbull and Jarrett Feeney also had outstanding seasons, although they just missed qualifying for the trip to states. Turnbull placed 6th and Feeney 5th. 
"It was heartbreaking to see Cael and Jarrett come so close to qualifying for states. They have each had such great careers at Dallastown and are definitely able to compete at the highest level. On a different day, I think both of these guys would have been joining us on the mats in Hershey this weekend," head coach Dave Gable said.
The wrestlers weren't the only successful part of the team. Gable was awarded the District III Coach of the Year, an honor voted on by other District III coaches. 
Gable was also head varsity coach from 1990-2009. After a short retirement, he came back as the  junior high coach when the current seniors were in 7th grade. Last year, he returned to the varsity team once again. 
"Coach Gable has always been a positive influence on my life, and will always be in my life," senior Raymond Christas said. "He is very deserving of coach of the year, and also deserves friend of the year. Coach Gable is always there for me and the rest of the team."
According to the team, that sense of family is part of what has lead to this year's successes. Most of the team has been together in the program for a long time, competing together and building relationships.
"Our team is a very caring one. We all cared about each other, in wrestling and in our personal lives," senior John Ligon said.
The PIAA State Championships begin today (Thursday, March 7) and run through Saturday, March 9, at the Giant Center in Hershey. 
"I'm excited for this new opportunity because I didn't make it last year," senior Jamal Brandon said. "I plan to bring home a medal. Which medal that is, well, we'll find that out soon."