Conigliaro takes the Crown
After weeks of practice, eight senior boys took to the stage to perform at the 2020 Mr. DHS pageant
On Friday, Feb. 21, many Dallastown students returned to school to support their favorite seniors in a unique way: a beauty pageant.
Mr. DHS, an annual event sponsored by Student Council, was held in the school's auditorium at 7 p.m. A portion of the money raised from the $3 admission fee will go to the senior post prom party, benefiting the Dallastown Class of 2020.  
Contestants Matteo Conigliaro, David Geppi, Kyle Bruner, Luca Fimmano, Kyle Reuter, Cade Fry, Peter Capobianco, and Gabe Wunderlich participated in three main events: the group dance, talent competition, and fashion show with a Q & A component.
Judges this year included Mrs. Dallmeyer, Mr. Trone, Mr. Green, and Mrs. Trevino. 
In the talent competition, each contestant showcased a unique talent that made them stand out to the judges. 
Some of the show stopping talents included Reuter's singing solo to "Wrecking Ball" by Miley Cyrus, Wunderlich and Fry's Tik Tok Dance, Bruner chugging a gallon of milk, Geppi and Capobianco performing a cheer routine, and Fimmano and Conigliaro singing a duet.
"[The pageant was] Riveting!" said Trone. "Relative to these men, Shakira's hips do in fact lie! Each man should be proud of their willingness to perform, without dignity in some cases, in front of their peers."
Mrs. Trevino, first time attendee and judge, was entertained the entire eventing and was specifically impressed with the talent portion. 
"Each of the guys commanded the attention of the audience with their acts," said Trevino. "I do hope to never see Kyle Bruner drink a gallon of milk again. That was actually more scary than anything else."
For the fashion show and Q & A, each contestant wore an evening gown or simply dressed up and strutted around the audience and answered a few questions. Responses to the questions asked Sarah Mtimet and Abby Langmead, the Student Council head chairs of this event, gave the audience even more entertainment and sent many into laughter. 
"Fimmano and Conigliaro in their evening gowns were impressive as they clearly practiced the runway walk," Trone said.
Ultimately, Conigliaro had the highest score out of all eight contestants, making him the overall winner of Mr. DHS. 
"I feel great and very happy being crowned Mr. DHS," said Conigliaro. "I had so much fun with all the boys."
Besides the overall Mr. DHS crown, three other contestants earned other awards. The group dance award winner was Wunderlich, the best talent award went to Fimmano, and the best fashion award was received by Capobianco.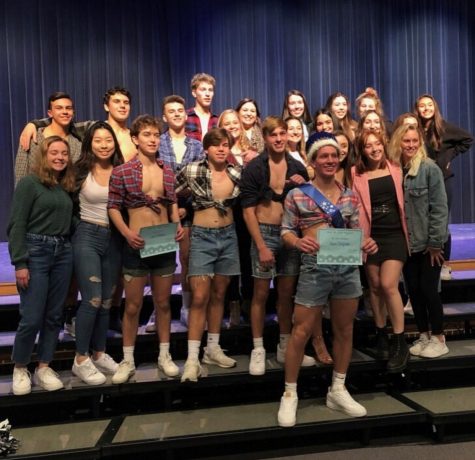 "It was really well run and very entertaining," said Green. "[Mr. DHS is] definitely a must-see event!"
This performance did not come without hard work. Prior to the competition, the eight contestants learned the group dance and practiced their talents with members of the Student Council under the leadership of their advisors, Mrs. Boyd and Mrs. Huyett. Bloopers of their numerous practices can be found on the Student Council's instagram, @dtstudco.
Overall, the hours of practice paid off, and the eight boys performed with humor and created a night full of entertainment for all judges and attendees. 
"I think this event though once again reflects the best of Dallastown," said Trone. "We had hundreds of students laughing, singing, smiling, enjoying their Friday night together. Dallastown Proud!"