Pandemic Learning Lifestyle: Focus on the Intermediate School
Challenges of teaching in 20-21 creates a new way of learning for younger students and their teachers.
In March 2020, nobody expected the toll that the Coronavirus would take all across the world.
Through quarantines and shut downs, students experienced staying home from school.
In the weeks following March 13, 2020, a new way of learning began to blossom, as students found themselves educated fully through their computer screens.
As virtual learning may come across as more adaptable for older students at Dallastown, younger students in the district are learning in ways they've never been exposed to before.
When the 2020-2021 school year rolled around, the district gave families the choice of their students to learn in person or online.
For students at the Intermediate school, this meant a whole new change for the school's wings and teams. 
For this school year, 25% of the teachers, grades four to six, are teaching virtual learning. As the Intermediate School has around 1500 students, approximately 360 of those students are online.   
While some of the students at the Intermediate school are online for this school year, some staff members are doing the same.
Mrs. Zinn, a fourth-grade teacher in Blue Wing's Team Courage has been working at Dallastown for 20 years. While she has always taught students in a classroom setting, she is 100% teaching just remote learning students.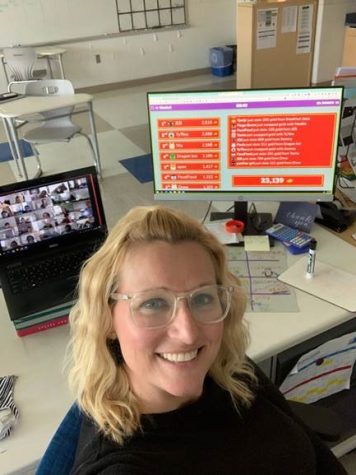 "This year, most challenges come from getting students motivated to learn through a computer screen.  I have had to use creative energy to keep students motivated and ensure they are still growing academically. The time put into planning this year reminded me of my very first year teaching!" Zinn stated.
Even though the pandemic has completely changed this school year, teachers still run on their normal day-to-day schedules.
For students learning in person, they are required to stay in 1 classroom for the entire school day. Teachers and staff rotate depending on what subjects are being taught at that time.
Being a teacher can be stressful no matter what grade you teach. While older students sometimes can be more mature than younger, it's sometimes difficult to have younger students stay focused and want to learn.
As for students online, we asked Zinn how she felt about remote learning.
"Teaching is stressful no matter the platform.  Virtual teaching is just different stressors.  It is harder to gauge the learning of the student and harder to monitor growth."
As for fourth grade, remote learning is also a new challenge for other grades in the Intermediate School. Mrs. Shelly, a 6th-grade teacher on Team Success has been teaching at Dallastown for 29 years.
"Learning how to use new technology needed for virtual teaching and changing current assignments and assessments to an electronic format." was a struggle Shelly initially faced at the beginning of the school year.
"Teaching 6

th

grade virtually has been a little challenging this year but rewarding at the same time.  I am teaching in a way I never imagined!"   -Mrs. Shelly
This school year presented unexpected challenges and obstacles, however, teachers rose to the challenge to continue to meet student's needs in the virtual world.
"I definitely feel more stress about teaching my remote students because this style of teaching is very new to me.  At the beginning of the year, I was very nervous about being successful and meeting the needs of my students.  However, as the year has progressed I  am more comfortable with teaching in the virtual environment."
As of right now, nobody knows what the future of teaching will look like. As for Dallastown Area Intermediate School, they will continue to meet and exceed student's needs whatever the platform is.