"Pursue Your Passion"
Steve Navaroli visited DHS to talk about changes in journalism and how he made his dream of being a sports reporter come true.
Steve Navaroli  has always had a passion for sports stories.
Living in Detroit as a young boy he would eat his breakfast checking sports scores of the Tigers and the Red Wings in the daily local newspaper.
However, he didn't believe he had a shot at chasing his dream as a sports writer.
Navaroli went to college as a business major and after spending several years in sales, moving to York county, and starting a family, he found his calling when he saw a sports journalist job offer in the paper for the York Daily Record.
He was hired in 1991 and spent 25 years with the company.
"I started freelancing for a whopping $25 per story," Navaroli recalls.
He loved every second of it. Then, journalism changed, and he had to adapt.
"You have to be ready for whatever happens." Navaroli explains "Life transitions, life changes, but do whatever you do with passion."
Working for the York Daily Record he was in the transition between print journalism and digital media.
He found himself learning how to use Twitter to tweet sports scores, and how to use a camera to put together videos for YDR's website. He was one of the first journalists for GameTimePA which was established in 2007. Then after he left the company he started updating the YAIAA and power ranking scores on their websites.
Navaroli explains that instant information with digital media has its good and bad aspects. "The hard part about working with instant news is you must be objective and correct"
Just a slip of a finger can have the wrong information on the internet for everyone to read.
With print journalism, you have more time to work to guarantee being accurate. Navarolli explains that he misses it a little bit because that's what he grew up with.
However, he enjoys the creativity he can bring into his journalism by going digital.
"I've learned a lot of new things, and continue to every day. If you're into the profession, try to learn to be good at multiple different things. The days of just writing are over."
York Daily Record assigned most of his writing to be local news. He has done conference games, districts, and state playoffs of several different sports in the county.
"
"99.5% of the writing I've done is in sports, it's what I love.""
— Steve Navaroli
His best and worst times as a writer also came from working with YDR.
In 2015 Navaroli wrote an enterprise article about how many athletes suffer from ACL tears, especially girls.
He spent roughly 40 hours researching the topic, he even got permission to attend one athlete's doctor's appointment to receive information.
His final product included videos and statistics, and at the end of his work Navaroli won an award for his writing. This was his top award of many won over the years.
One of his hardest moments was in 2012 when Navaroli was diagnosed with stage three throat cancer.
Swimmers from York Suburban Emily Schmittle and Will Massey started the Navaroli Nation t-shirt campaign to help raise money for him and his family.
He was extremely humbled by the gesture and today it's one of the many reasons he stayed a local sportswriter.
"I am proud of the relationships I have formed, I wouldn't get this kind of love and support if I worked for a bigger company."
Today, Navaroli is cancer-free and has gone separate ways from York Daily Record.
He is still a sports journalist but works as a freelancer, selling most of his work to the Lancaster News Company.
He also runs several other sports teams' websites due to his experience with them in the past.
" I honestly believed I would retire as a journalist with the York Daily Record, I never ever thought of leaving".
When speaking to the Print Journalism and Digital Media class at Dallastown High School on April 8 Navaroli gave advice to those wanting to pursue a profession as a journalist.
Simply put, find something you are passionate about.
"If you want to work in public relations, great! Don't hold back, create your own opportunities, there's plenty out there. Find something you love and run with it, don't assume you can't handle something."
Dallastown journalism teacher Angela Gable appreciates Navaroli and his time coming in to speak to the kids.
"I always enjoy having guest speakers," Gable exclaims. " I think that his message of finding a career that you are passionate about is good advice for anyone, not just future journalists."
If you are interested in reading any of Navarolis's stories check out.
https://muckrack.com/steve-navaroli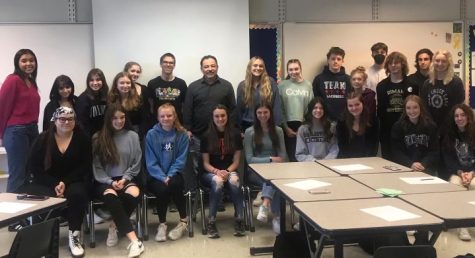 Leave a Comment
Your donation will support the student journalists of Dallastown Area High School. Your contribution will allow us to purchase equipment and cover our annual website hosting costs.