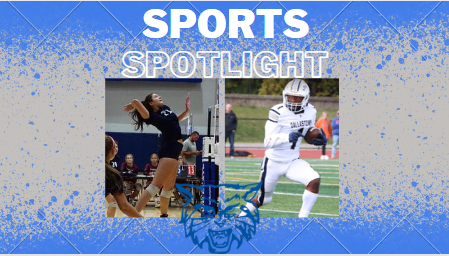 Photos submitted/Graphic Taylor Hicks
Sports Spotlight
October 28, 2022
Kira Lynch – Volleyball
Beacon: How long have you been playing volleyball?
Lynch: "I have been playing volleyball for 4 years."
Beacon: What made you want to start playing?
Lynch: "I started playing because I wanted to try something new, and I thought I could be good at it."
Beacon: What do you love the most about playing with a team? 
Lynch: "My favorite part of playing with a team is the energy that everyone has during a game and the new friendships I get to make."
Beacon: Who do you look up to the most? Do you have any sports heroes? 
Lynch: "I look up to my dad because he's my number 1 supporter. My sports heroes are my teammates and coaches because they always push me to be a better person and player." 
Fun Questions: 
Beacon: If you could cancel one of your classes for a day, what game would you play with your class instead?
Lynch: "If I could cancel one of my classes and play a game instead, I would like to play volleyball because it's my favorite."
Beacon: Would you rather compete in a dance-off or a karaoke contest and why?
Lynch: "I rather compete in a karaoke contest because I'm really bad at dancing."
Beacon: What is an invention that doesn't exist yet, but you would invest one million dollars to help create?
Lynch: "I would invest 1 million dollars in a charger that charges your phone to 100% instantly because my phone is always dead."
Leave a Comment
Michael Scott – Football
Beacon: As a multisport athlete, sport is your favorite to play?
Scott: "My favorite sport to play Is definitely football, that is the sport that I fell in love with from the start and that is what I want to do in college."
Beacon: What is the greatest accomplishment you've ever achieved?
Scott: "My greatest accomplishment probably is getting first-team all-county for football last year as a freshman! It's nothing too crazy or big because I still have a lot to improve on and get better at."
Beacon: How do you mentally prepare for a game? 
Scott: "What I do to mentally prepare for games is listen to my music, then before the game starts I always call my mom and she prays for me and that is a big factor with me, keeping God first in everything."
Beacon: What pushes you to keep playing? 
Scott: "What pushes me to keep playing is definitely my father. He passed away when I was 7 years old and ever since then I have had a chip on my shoulder and I say everyday that I am playing for him."
Fun Questions: 
Beacon: Do you have any superstitions or pre-game rituals?
Scott: "I don't really have any superstitions really."
Beacon: What is your favorite food to eat after a game? 
Scott: "My favorite food to eat after a game is JJ Panda."
Beacon: What should be an Olympic sport and why? 
Scott: "I feel like football should be an Olympic sport honestly, because you already have all of the other main sports in the Olympics but football which I don't get."
Leave a Comment