"Roll Tide" Pride Reaches Dallastown
Maggie Helmer, 2019 Grad and Alabama Cheerleader earns National Championship with the Crimson Tide's All-Girl cheer team.
On Jan. 17-19, 10 teams competed in the final round of competition at the 2020 UCA National College Cheerleading Championship for the title of All-Girl Division 1A champion at ESPN's Wide World of Sports in Orlando, FL.
You've might of seen a familiar face in the competition cheering for University of Alabama: 2019 Dallastown Graduate Maggie Helmer.
This year, Helmer and the Alabama all-girl cheer team won the division 1A all-girl national champion title, second in school history.
This was Alabama's fifth national title overall, as the all-girl cheer team won their first national title in 2015, just one year after beginning competition cheer in 2014. The co-ed cheer team also has won national titles in 1984, 2001 and 2015.
Although this wasn't Alabama's first win, it was Helmer's first national win as a freshman.
"When we heard Alabama had won, there was an overwhelming sense of pride and joy and a little disbelief," Helmer said. "Being a part of a team that was able to accomplish winning a national title was surreal."
Helmer's cheer coaches at Dallastown shared her excitement, as most tuned in on ESPN to watch the live competition.
"Being able to watch her compete for and achieve a D-I National Championship was amazing," said Ms. Gable, Helmer's high school coach until her coaching retirement in 2018. "We've never had anyone compete at quite that level before in college cheerleading, and she was able to do it at her dream school."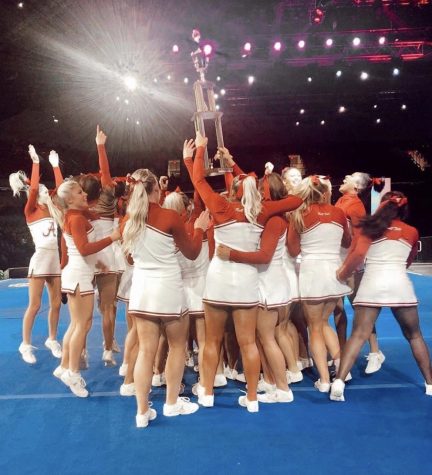 This national title win did not come without hard work.
First, Helmer had to make the cheer team. This consisted of attending tryouts to make the cheer team in early May 2019 along with 100 others who aspired to cheer for the D-I Crimson Tide.
After three rounds of cuts throughout the tryout weekend, Helmer found out she made the team.
Helmer spent part of the summer of 2019 training with her new team.
"We began training for competition from the beginning of the year with workouts twice a week to make sure our bodies are ready and working on skills that could potentially go into the routine," Helmer said.
As the competition was approaching, the cheer team amped up the practices, having two, three hour practices everyday over Alabama's winter break. 
At the competition, Helmer and the team had two practices the day before the first round of competition.
After the first round, the team analyzed their score and worked to perfect their routine for finals. Competitors scores are based on stunting, tumbling skills, crowd-leading abilities, and overall performance.
"Alabama was the first to compete in our division; the arena was packed," said Helmer. "Our final performance was my favorite memory from  the trip because of the energy in the arena. Every person was cheering us on and wanted us to succeed."
Helmer was not the only local cheerleader involved in the event.
Dallastown graduate Sierra Sammons competed with Kutztown University and DHS alum Talia Russell attended as head cheer coach of St. Edward's University in Austin, TX.
In addition, Red Lion grad Judge Kunce was a member of the University of Central Florida team which brought home the National Championship in D-1 Co-ed, and Kait Groft of New Oxford won a Division II C0-ed Championship with her West Georgia team.
Along with competition cheer, University of Alabama's all-girl cheer team cheers at home football games and women's basketball games.
"As far as game day goes (for football games), it has been one of the coolest and most rewarding experiences I've ever had. At games, there are tons of children that look up to the cheerleaders at Alabama and want pictures and autographs," Helmer said.
There are also people at home who look up to Helmer, including some of her former teammates. 
"From my freshman year cheering with Maggie, all the way to watching her compete and win college nationals, I've always looked up to her as a cheerleader," senior Dallastown cheerleader Taylor Witmer said. "Seeing her do so well always pushed me to work harder and to improve. Of all people, Mags definitely deserved to be our first D1 National champ!" 
So, you could say Dallastown has caught a small case of Alabama pride.