From Dallastown to Drexel
Julian Adams, a senior guard on Drexel University's basketball team, experienced a dream for any college basketball player.
Former Dallastown grad Julian Adams, class of 2016, had the opportunity of a lifetime on March 19.
He and his team of the Drexel Dragons traveled together to Indianapolis to participate in the NCAA Basketball Tournament 2021. 
While playing at Dallastown, Adams was a guard that came off of the bench to support his Wildcats under the coaching of Mike Grassel, Dallastown math teacher and current boys basketball head coach.
Grassel had nothing but praises for the young man and his accomplishments. 
"Julian is hard-working, driven, and a selfless young man who would do anything he could do to help the team get better," Grassel said.
Grassel's description of Adams also fits perfectly with the road to college that he faced. Adams was a walk-on to the Drexel basketball team during his stay there to study chemical engineering.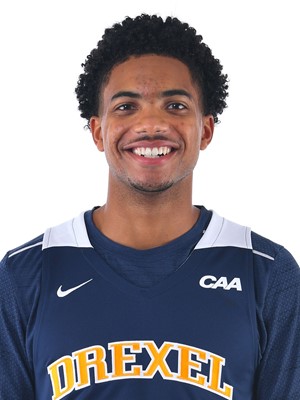 Adams noted why he chose to go to Drexel University. The college that led him to his dreams. 
"I originally chose Drexel University because of its co-op (internship) program as well as its great reputation for its College of Engineering," Adams mentioned.
Adams notes the thing that he remembers most about his days in high school.
"The laughs and jokes shared at the lunch tables in the cafeteria at Dallastown are still some of my favorite memories from high school. My friends and I still recall old jokes that made us cry laughing so hard to this very day," Adams recalled.
Being a walk-on to a competitive basketball team, Adams faced many challenges. However, he stuck it through and became a very impactful player for the Drexel basketball team.
In a weird year such as this, the road to March Madness for Drexel was far from straightforward. 
"In the offseason, we had at-home workouts over Zoom sessions. During pre-season, we were only allowed to work out in small groups of 4, with each player using a basket in the gym to themselves," Adams recalled.
If the prerequisite challenges to the season weren't enough, the Dragons missed out on 12 games due to COVID-19 protocol. Of those 12 games, 10 were in-conference games that could have impacted the Dragons' overall seeding.
The Drexel men's basketball team was still able to make it to March Madness but ultimately lost in the round of 64, 49 – 78 to the Fighting Illini of Illinois.
Throughout the course of Adams' playing career, there were multiple people that he attributes his success and motivation. Among them were his family, friends, Dallastown coaching staff, and those that he met at Drexel.
"My family for always supporting me and guiding me in any decision I made and my best friends and former teammates like Aaron Ward, Donovan Catchings, and many more who I've trained with and played on teams with since elementary school," Adams said.
He also recognized the coaching staffs that have influenced both the player and the person he is.
"Coach Grassel and the rest of the Dallastown coaching staff as well as older Dallastown Alums that pushed me and the rest of my teams while I was a player there," as well as his friends at Drexel, and the "former Drexel Men's Basketball walk-ons and even the former Drexel Women's Basketball Assistance Coach, Michelle Sword, for training me for my walk-on tryout and showing me it was even possible," Adams acknowledged.
"
Each person I've met along the way has contributed in me getting to this point."
— Julian Adams
Coach Grassel continued exclaiming praises for Julian about the feelings he has that one of his former players is participating in the NCAA Basketball Tournament.
"I have a sense of pride—not only for what Julian and his team have accomplished this year but the fact that Julian walked on to a Division 1 basketball program and was a valuable member of Drexel's team for three years," Grassel noted.
Grassel remembers the fact that Adams was very diligent about attending practice and working hard.
"Julian deserves a ton of credit for all of the hard work and dedication that he has put into the game over the years and the fact that he showed up to EVERY practice bringing a positive energy and will to compete," Grassel mentioned.
Looking back upon the event, Adams recognizes all the hard work that he put into the sport he loves and he is thankful for the family he developed with the Drexel basketball team.
"Being able to participate in March Madness, being on that big stage, in front of the world, especially having the basketball journey that I did and coming where I come from, it was the best feeling in the world. I had never imagined making it this far with basketball even when I was putting in extra work in my off time, so just looking back, it's rewarding to see my hard work paid off," Adams recalled.