Keep Your Closet Green
Start supporting local, small businesses to build a better environment and your closet.
With the awareness brought to fast fashion, people are constantly looking for better alternatives for their closets. More and more people are trying to bring an end to fast fashion and its harmfulness to our environment and employees.
If you arent is sure exactly what fast fashion is: fast fashion is a popular way to shop. Things are cheap, sometimes you get good quality, and there are wide varieties of clothes to choose from.
But the negatives out weight the positives. Child labor and overworked employees are most of the employees of these fast fashion companies.
In York, we have many alternatives to fast fashion, such as small businesses owned downtown. These stores are an excellent way to ensure we support our economy and leave some stuff for the people who genuinely rely on thrift stores for clothing. 
One thing to look out for is First Fridays and market days. First Fridays are the first Friday of every month, where local businesses will set up on the street and display some of their works.
So, how do we know if something is sustainable? Looking at specific brands, manufacturers, and suppliers will help you know if the clothing is green-certified!
Just because something is local won't make it sustainable; you should also look for materials to see if things are upcycled/ renewable materials such as linen, hemp, or silk. It would help if you were on the lookout for textile dyes; frequently, they're toxic, and you want to avoid them.
Recently, the Fashion Club at DHS took a trip downtown to some vintage, upcycled, or handmade clothing shops. They've encouraged many to support local shops, boycott fast fashion, and find alternatives.
The Fashion club has made it a goal for itself to increase the awareness of fast fashion and shopping more sustainably.
M.elene.vintage
M.elene.vintage provided the club with an opportunity to decorate their window. The owner, Molly, resells vintage pieces and is very locally involved with the community. 
Molly has desired to make a platform for a positive change in the downtown community. She aspires to create a safe environment for future entrepreneurs and her children.
Revolt Style Studio
Revolt Style Studio offers modern second-hand as well as vintage. They provide different accessories along with their clothes. 
The owner has been collecting pieces for many years now and handmakes many of her products. In addition to being based downtown, they also have a mobile boutique for popups.
Revolt is very passionate about second-hand shopping and staying eco-friendly. Their goal is to maintain affordable, work with local artisans and makers to keep diversity and sustainable and reduce fast fashion waste.
"Revolt Style Studio focuses on highly curated wearable vintage that can be incorporated into your modern wardrobe. We believe that shopping secondhand is not just an eco-friendly alternative, but the future of fashion. We promote sustainability through recycling + upcycling clothing and carrying a variety of sustainable product lines," says Jessica Weikert, founder of Revolt Style Studio.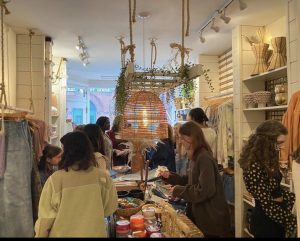 Indigo Bleu
Based downtown, Indigo Bleu is a Bohemian-style boutique for women. While maintaining their Bohemian style, they also strive to stay contemporary. 
They inspire to create fashion authentically and provide unique selection.
Not only do they focus on their fashion, but their environment is also equally as important. Calm creativity, tranquility, and serenity is their goal.
"
Indigo Bleu is aimed to channel a woman's confidence, individuality and creativity; yet not at the expense of quality and affordability. Our goal is to present the latest fashion that won't break the bank.
— Zarah Brooks, owner of Indigo Bleu
The Walk-in Closet 
The Walk-in Closet is a used vintage and consignment store based in Red Lion. Kaitlyn Wise, the founder of the Fashion Club, is employed here as well. 
They recently opened and have a wide selection of clothes for men and women, while keeping their prices low. 
"I would love to create all aspects of fashion jobs throughout the year such as fashion journalism, design, store management, and more," Wise says in regards to her job and position in the Fashion Club.
The Wireworks Exchange 
Another good option locally is The Wireworks Exchange. This is a flea market for merchants, where you can find vintage and pre-loved clothes and find a wide variety of clothing options.
There's a wide selection from band tee's to grandpa sweaters to flowy skirts. You can find a bit of everything there, plus the interior is a unique concept inside an old warehouse.
You could even start selling your clothes there as well!
There's a wide selection from band tee's to grandpa sweaters to flowy skirts. You can find a bit of everything there, plus the interior is a unique concept inside an old warehouse.
You could even start selling your clothes there as well!
There's no harm in trying to flip your closet into being eco-friendly, give it a go. You may find you enjoy the challenge of finding clothes that are sustainable, or you may learn you love to resell your clothes.
Help save our earth and our workers, every piece of clothing counts.