Jazz in the City
The Appell Center showcases regional musicians on First Fridays.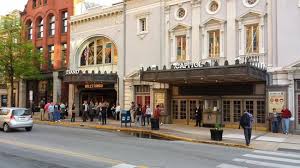 Hang on for a minute...we're trying to find some more stories you might like.
Most people know about the Appell Center in downtown York once called the Strand Capital.
However, many may not know that the Appell Center invites regional jazz musicians to perform on First Fridays.
It's called Jazz in the City.
From 5:00 p.m.-7:00 p.m., live jazz fills the the Appell Center's Performing Arts studio on 50 N. George Street.
Jazz in the City is free for students, and it only runs from October to June to give performers a summer break.
Jeff Stabley, a music teacher at York College and a percussionist, recruits the musicians for the event. Sometimes Stabley even plays himself with the other musicians.
"There are regulars, York college students come to see him, and people off the streets from first Fridays pop in," Lori Stover, the Senior House Manager and Volunteer Coordinator at the Appell Center, said about the people the event attracts.
The musicians vary from organized bands, to randomly selected musicians who play together for the evening.
A few times a season, Stanley also recruits jazz singers. Often the musicians are invited back to play again.
Even for those who don't quite love jazz, the live music is excellent and enjoyable.
Listening to the talented musicians play their instruments is a great way to spend an evening downtown, and with a student ID you can enjoy the live jazz for free.
Next time you're downtown for a First Friday, pop in for Jazz in the City.