J.A.M. Jay and Movies: Black Adam
Dwayne "The Rock" Johnson claimed, "the hierarchy of power in the DC universe is about to change," but will it change at Dallastown?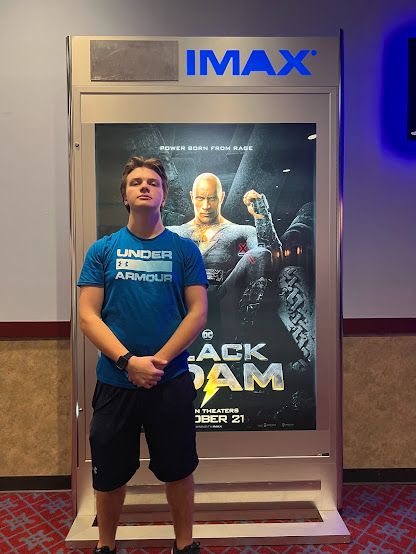 "Black Adam" is Warner Brother's newest installment in its DC brand, coming after many controversies with its cinematic universe.
Fans were divided with the release of "Justice League" in 2017, after the firing of director Zack Snyder right after the tragedy with his daughter. Joss Whedon was hired as his replacement, but had many allegations from Cyborg actor Ray Fisher, as well as Wonder Woman actress Gal Gadot.
With this, fans rallied on Twitter along with other social media platforms with the hashtag #releasethesnydercut, and in 2021 their pleas were finally answered with the release extended director's cut of Justice League titled "Zack Snyder's Justice League".
Now with Snyder's huge following and success of his director's cut, a new hashtag trending of #restorethesnyderverse, the success of "The Batman" and "The Suicide Squad", along with the recent departure of Head of DC films, Walter Hamada, it seems like DC might have a clear future with its cinematic universe, and "Black Adam" supports this.
As a fan of comic movies, I came in hopeful for a good time when going to see this movie, and I came out very pleased. "Black Adam" manages to feel like a comic book movie, while still feeling like a proper cinematic experience. 
The story of Black Adam follows Teth-Adam, played by former WWE wrestler, Dwayne "The Rock" Johnson. In the fictional Egyptian nation of Kahndaq, Teth-Adam is enslaved along with his people to mine for a mineral called Eternium, found only in Kahndaq, in order to forge the crown of Sabbac.
The movie takes place in modern day, as Teth-Adam adapts the title of Black Adam, and features famous comic characters such as Amanda Waller, Hawkman, Dr. Fate, Atom Smasher, and Cyclone.
My Review:

Honestly I believe this movie was actually pretty good. Usually with "The Rock" movies, there's often a problem with him seeming to play the same character in every movie, but in "Black Adam" this problem is seemingly nonexistent.
"Black Adam" manages to balance extreme violence and action, while still remaining fun and lively. It perfectly uses its PG-13 rating and is a true comic book movie.
The story and writing were in my opinion very well done. The film is filled with many plot twists, and doesn't have many predictable moments.
The cinematography of the film is superb, using standard practices such as the rule of thirds, but not being afraid to try something new. The color grading was done excellently too, and had a yellow theme throughout that helped with the tone.
The costumes of the superheroes and villains were perfectly done, feeling true to its comic counterparts while not feeling overly campy and instead accurate and modernized. The set design complimented this as well, as it felt like a fictional world in a realistic setting.
The characters were very much compelling, setting up many new heroes while still keeping them fleshed out and motivated. There was one one screen death that was written really well, and while I am disappointed with their death, they managed to not make their death in vain and don't close the door for another to take the mantle.
My only complaints come with the CGI and the editing choices. The CGI at times felt like it was from a video game, and especially with Sabbac, took you out of the movie. The fight scenes, while incredible, would use an over excessive amount of slow mo and didn't balance it out at all.
With this, I would rate this movie a 7/10, but that is only with the movie itself. Including the post credit scene, "Black Adam" is a super 8/10.
It Finally seems like the DCEU has a bright future ahead of itself, and that an intertwined storyline is on its way. I can't wait to see what happens next.
Leave a Comment
Your donation will support the student journalists of Dallastown Area High School. Your contribution will allow us to purchase equipment and cover our annual website hosting costs.